Materials
To assist Service members, their families and overseas citizens, FVAP has created materials to cover many topics related to absentee voting. These tools are available below for you to download, print, and share as you see fit. We are always looking for ways to improve the voter experience through information so check back over the next few months to see what has been added!
Handouts
The Federal Voting Assistance Program has handouts that can help explain the absentee voting process, provide election dates and important contact information. Download and share these handouts when needed:
Service Ads
Many local news outlets will be able to give you free space when available, so we have created three sizes of the ads for each Service. If you need a specific size, email vote@FVAP.gov and we will do our best to accommodate your request. Click your Service below to open the three ads and save the PDFs for your use:
* Army * Navy * Marine Corps * Air Force * Coast Guard * Guard/Reserve
Digital Media Content Toolkits
These toolkits support like-minded organizations in their efforts to help Service members, their families, and overseas citizens vote absentee. You're welcome to customize and publish this shared content on digital channels like websites, blogs, social media, and email. Please contact FVAP if you would like assistance sharing this information, experience any issues downloading the files, or would like to request additional materials.
Pre-Printed Resources
Some products such as wallet cards, tri-fold brochures, and posters are better shared using our pre-printed copies. To request hardcopy products, email vote@FVAP.gov. We have limited resources, so please be respectful in the number of items you request.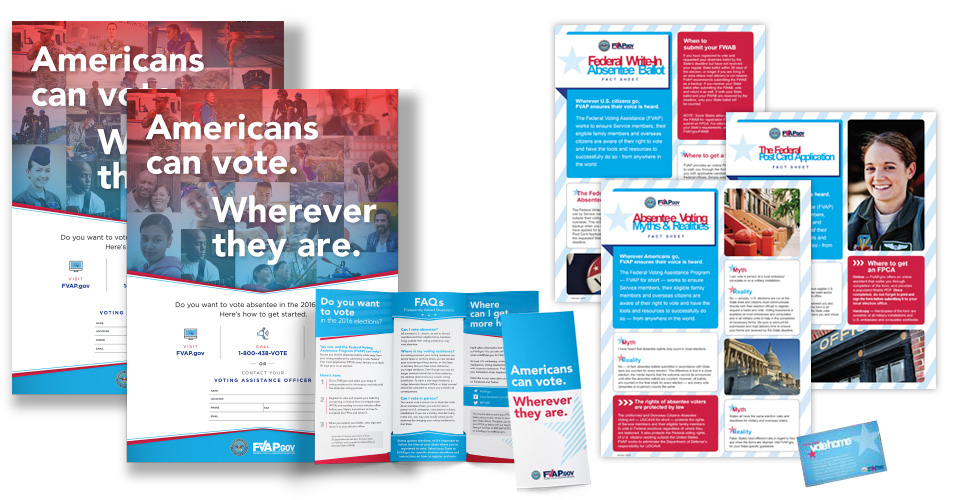 Blogger Widget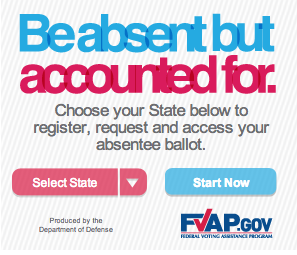 This widget can be embedded on any website to create dynamic access to the State pages by copying and pasting the code below onto your website. These State pages will get the voters started on filling out the forms they need to register to vote, update their mail address with the local election office, and request their absentee ballots. Anyone is welcome to use the widget in their site!
<iframe src="https://www.fvap.gov/uploads/FVAP/widget/embed.html"
width="300" height="250" style="border: none;" frameborder="0">
</iframe>
Can't find what you need? Let us know what we can create to help you! Email Media@FVAP.gov with suggestions.