Outreach Materials
To assist Service members, their families and overseas citizens, FVAP has created materials to cover many topics related to absentee voting. These tools are available below for you to download, print and share as you see fit. We are always looking for ways to improve the voter experience through information, so check back periodically to see what has been added! To order hard copy materials if you are a Voting Assistance Officer for the Services or State Department, please check the guidance provided.
Handouts
The Federal Voting Assistance Program has handouts that can help explain the absentee voting process, provide election dates and important contact information. Download and share these handouts when needed:
Fact Sheets
Translated Forms and Fact Sheets
Posters
FVAP produces a voting poster for every election year. This poster is available to help ensure absentee voters are aware of the tools and resources FVAP provides, as well as how to contact FVAP and the local Voting Assistance Officer.
2020-2022 Posters
2016-2017 Poster
Additional Resources
Two versions of 30-second radio ads:
Service Ads
Many local news outlets will be able to give you free space when available, so we have created three sizes of the ads for each Service. If you need a specific size, email vote@FVAP.gov and we will do our best to accommodate your request. Click your Service below to open the three ads and save the PDFs for your use:
* Army * Navy * Marine Corps * Air Force * Coast Guard * Guard/Reserve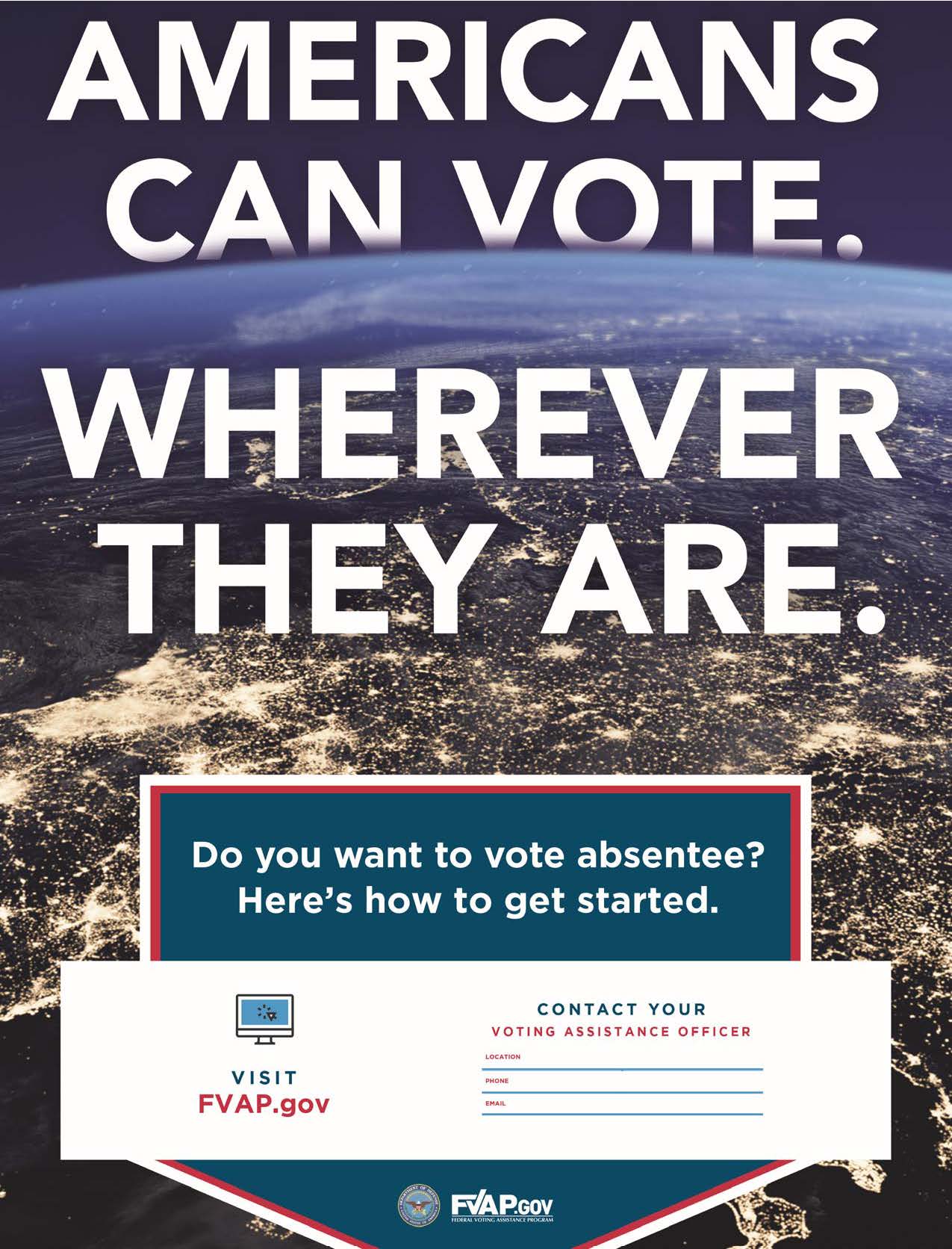 Digital Graphics
Videos
YouTube:
On FVAP.gov:
Digital Media Content Toolkits
These toolkits support like-minded organizations in their efforts to help Service members, their families and overseas citizens vote absentee. You're welcome to customize and publish this shared content on digital channels like websites, blogs, social media and email. Please contact FVAP if you would like assistance sharing this information, experience any issues downloading the files or would like to request additional materials.
Organizations Serving Military Service Members
Organizations Serving Military Spouses and Families
Organizations Serving Overseas Citizens
Service Voting Action Officers

Election Officials
Voting Week Toolkits
Pre-Printed Resources
Some products such as wallet cards, tri-fold brochures and posters are better shared using our pre-printed copies. To request hardcopy products, email vote@FVAP.gov. We have limited resources, so please be respectful in the number of items you request.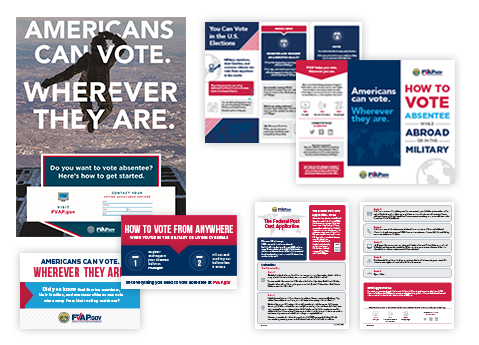 Can't find what you need? Let us know what we can create to help you! Email Media@FVAP.gov with suggestions.