State of the Military Voter
About three-quarters of the 1.4 million active duty military members are eligible to vote absentee with special protections because they're stationed away from their voting residence.
Voting is more complicated for military members stationed away than for local voters. They have to update their registration and explicitly request an absentee ballot — potentially every year. They have to follow their state's rules on how election paperwork can be sent and received, which may require technology not readily available or long mailing times. Most need to vote earlier than local voters so that their ballots are received by voting deadlines.
To learn more about military voters and help them navigate the absentee voting process, FVAP conducts the Post-Election Voting Survey – Active Duty Military (PEVS-ADM) every two years following the general election. The most recent report details military voting behaviors in 2020.

COVID-19 Impacts on Military Voting in 2020
While international mail access varied from March through November 2020 based on COVID-19 pandemic conditions in each respective country, military members stationed overseas were largely spared these disruptions as military mail continued to move throughout the year. However, social distancing requirements and other disruptions from the pandemic may have restricted Service members' access to in-person voting assistance. In addition, state changes to primary dates, deadlines, or ballot submission methods increased the need to get timely voting information to active duty military members.

FVAP coordinated monitoring activities with the Military Postal Service Agency, the U.S. Postal Service, and the State Department to assess impacts to the voting process throughout the federal primary election season and leading into the general election. FVAP shared this complex and frequently changing information with voters, election officials, and Voting Assistance Officers through a dedicated COVID-19 web page. FVAP also worked closely with partners to make active duty military voters aware of approaching deadlines and all available resources, which required the temporary switch to virtual communications not used in previous elections.
The Military Voter in 2020: 35 Years of UOCAVA
Since 1986, military members on active duty stationed away from their voting residence have been covered by the Uniformed and Overseas Citizens Absentee Voting Act (UOCAVA), which requires that states allow these military members, their eligible family, and overseas citizens to vote absentee in federal elections. In 2009, UOCAVA was amended requiring states to:
Transmit ballots at least 45 days before federal elections
Offer at least one method of electronic transmission (email, fax, online portal, etc.) of voting information and blank ballots
Transmit ballots automatically within the calendar year of the ballot request
Here are some highlights of military voting in 2020, nearly 35 years after UOCAVA passed.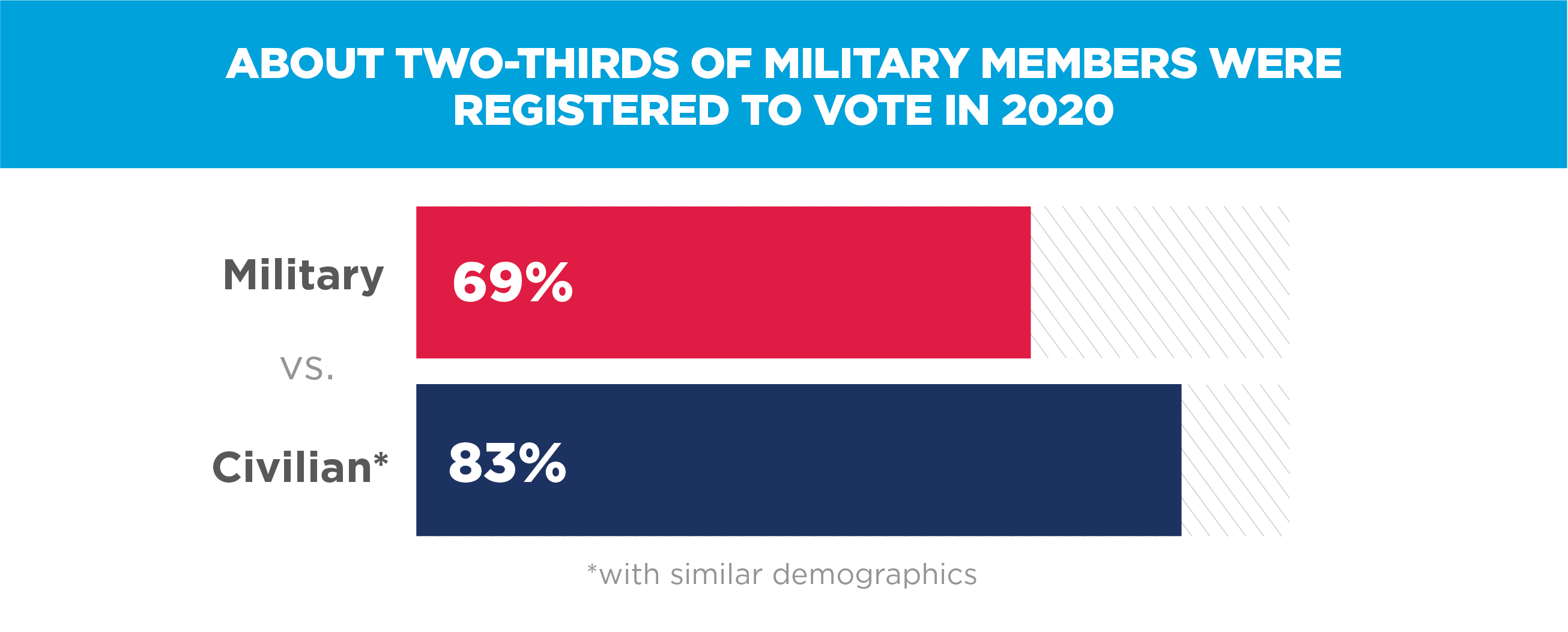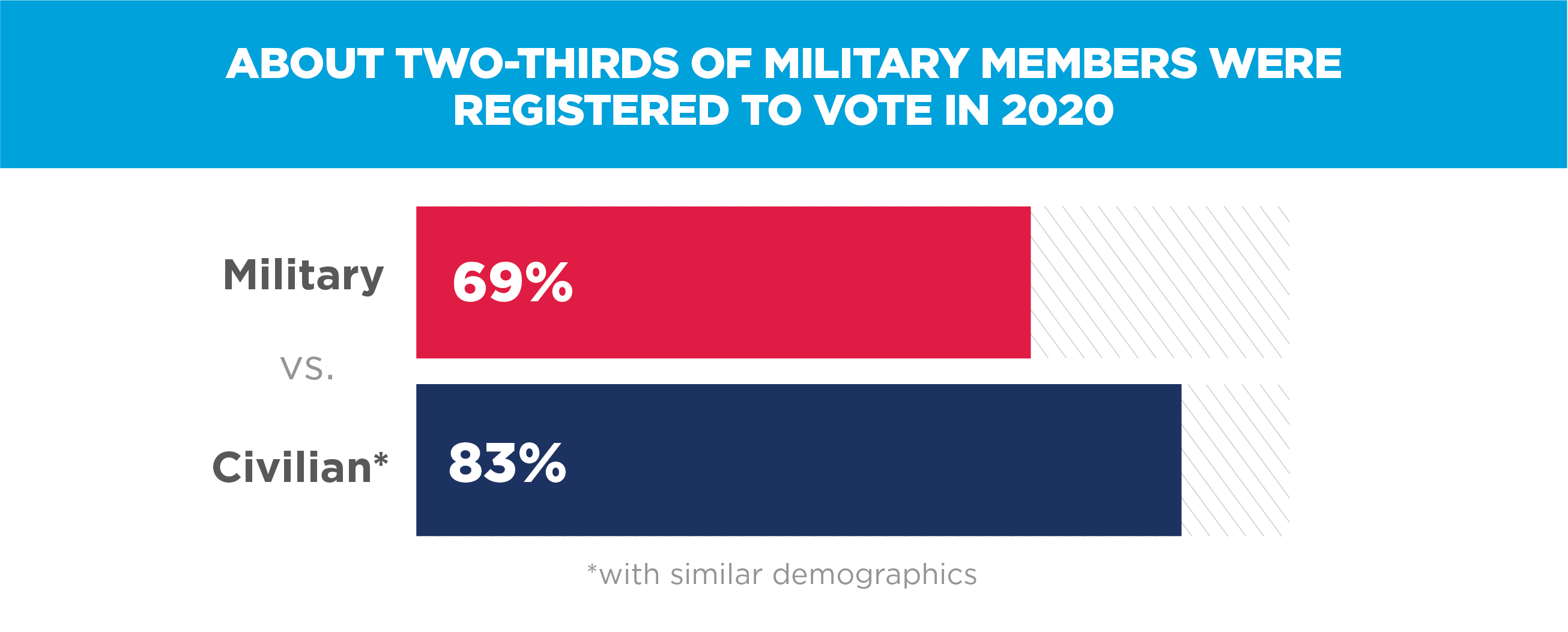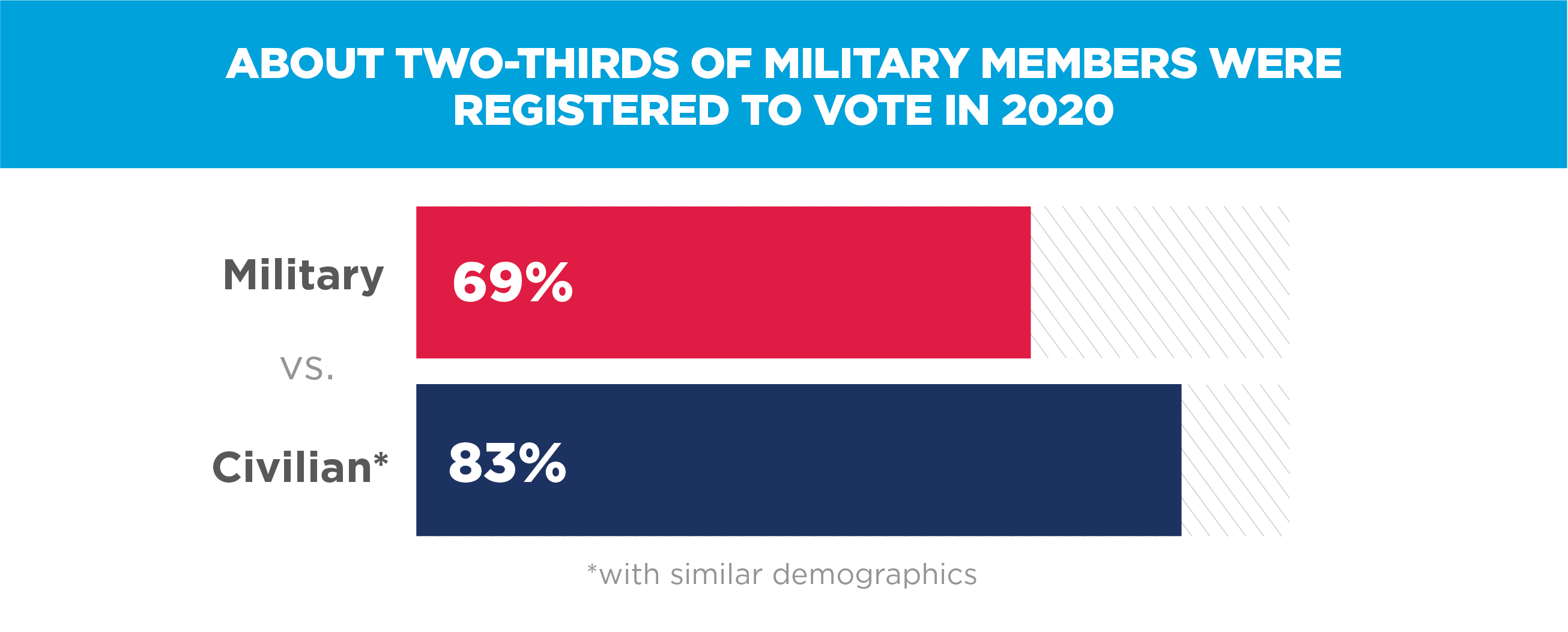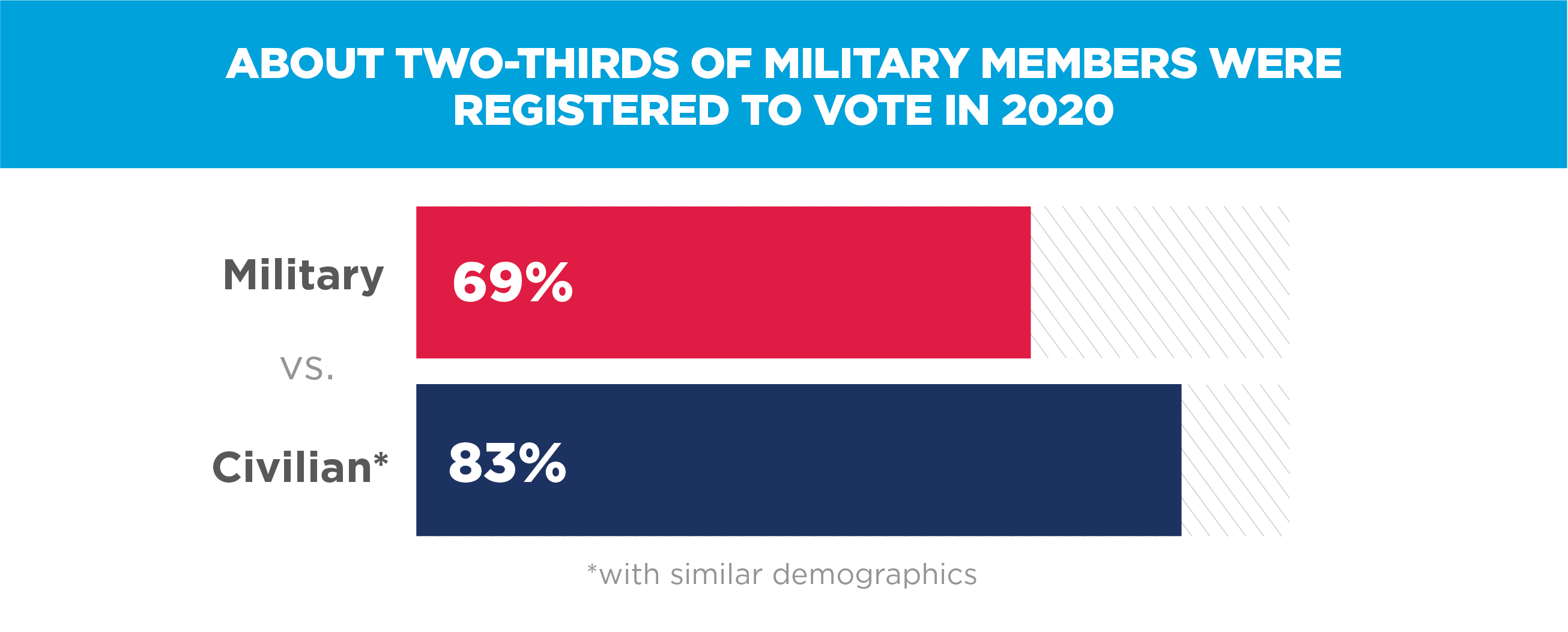 When adjusting for demographic differences between Service members and civilians (age, gender, education, etc.), the registration rate for military members on active duty was 14 percentage points lower than the general population. However, it was 3 percentage points higher than the military registration rate in 2016.




Turnout among the civilian population was the highest since 1900. Among civilian voters with similar characteristics, turnout was 74%, resulting in a 27-percentage-point difference between military and civilian voters in 2020. Military turnout in 2020 was comparable to 2016's 46%.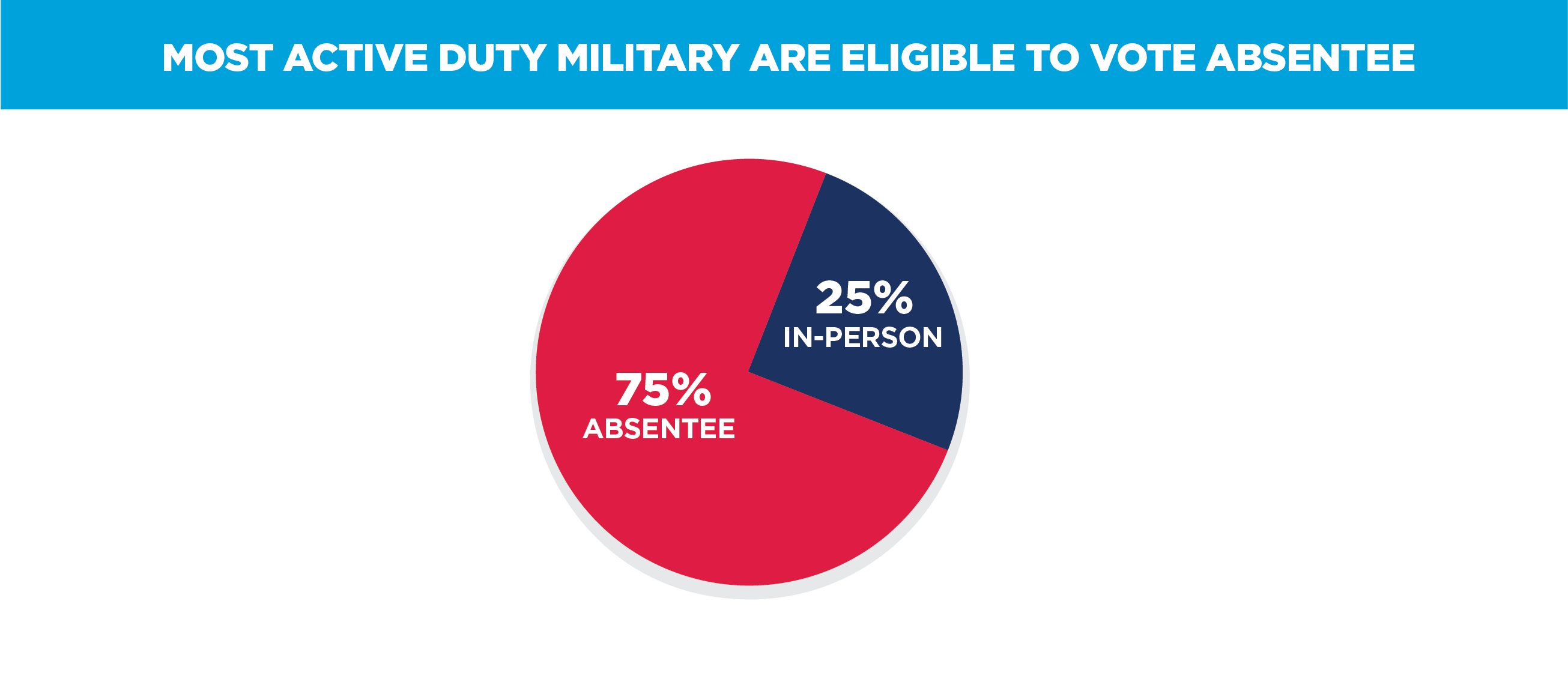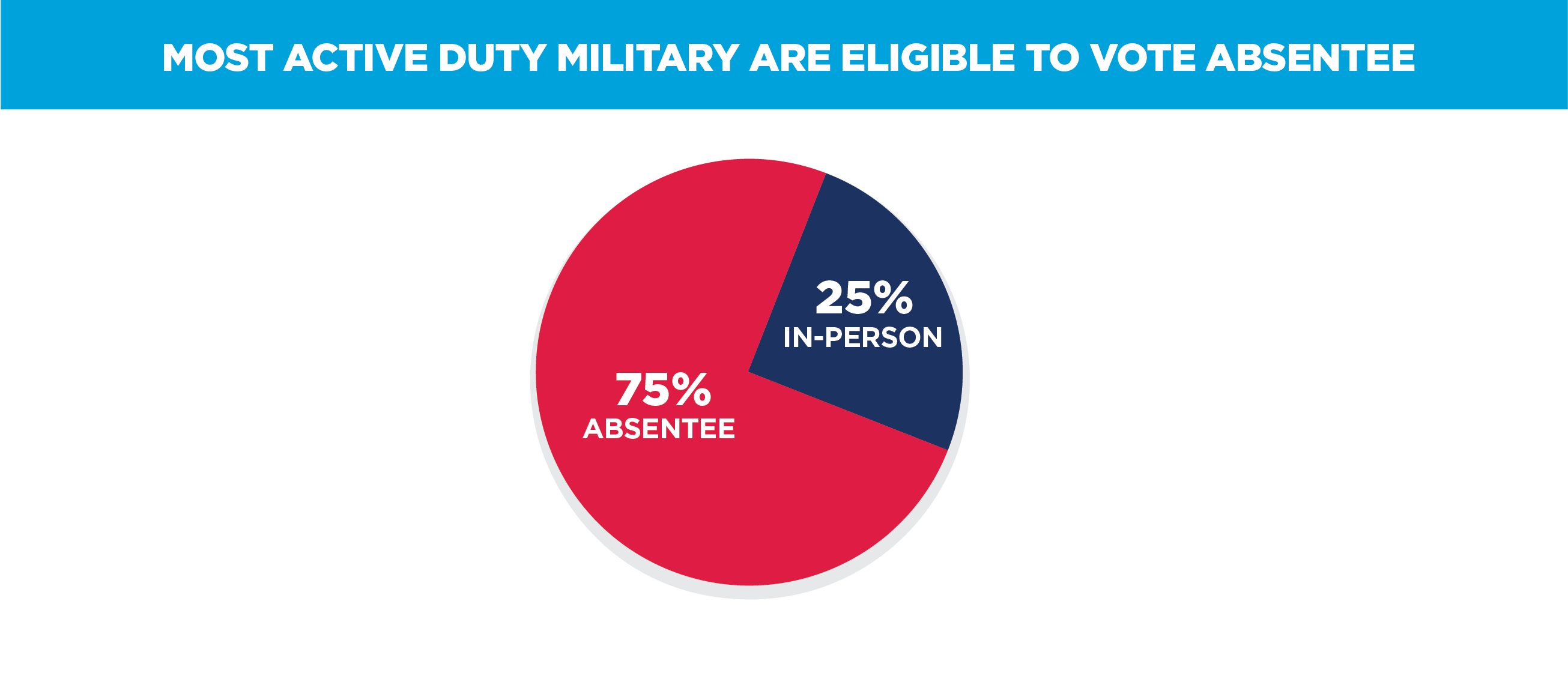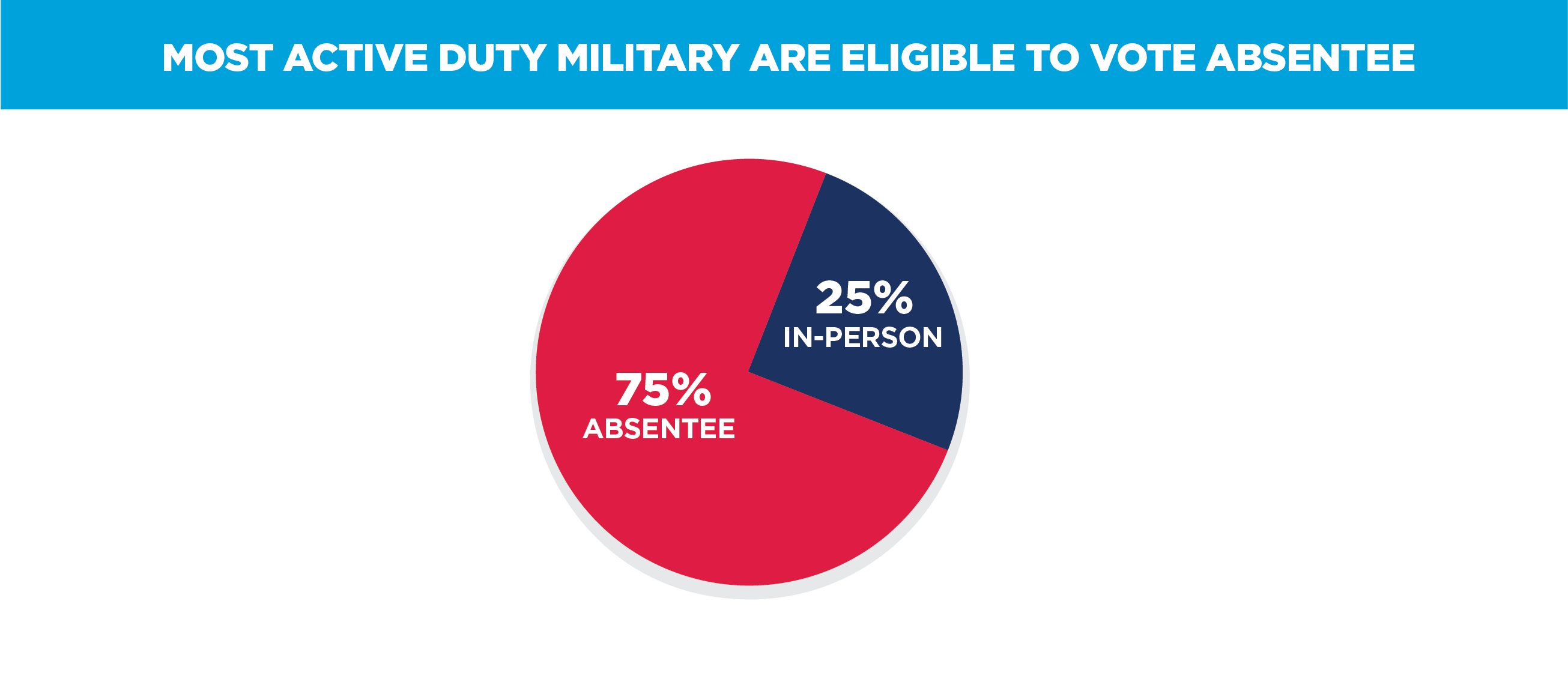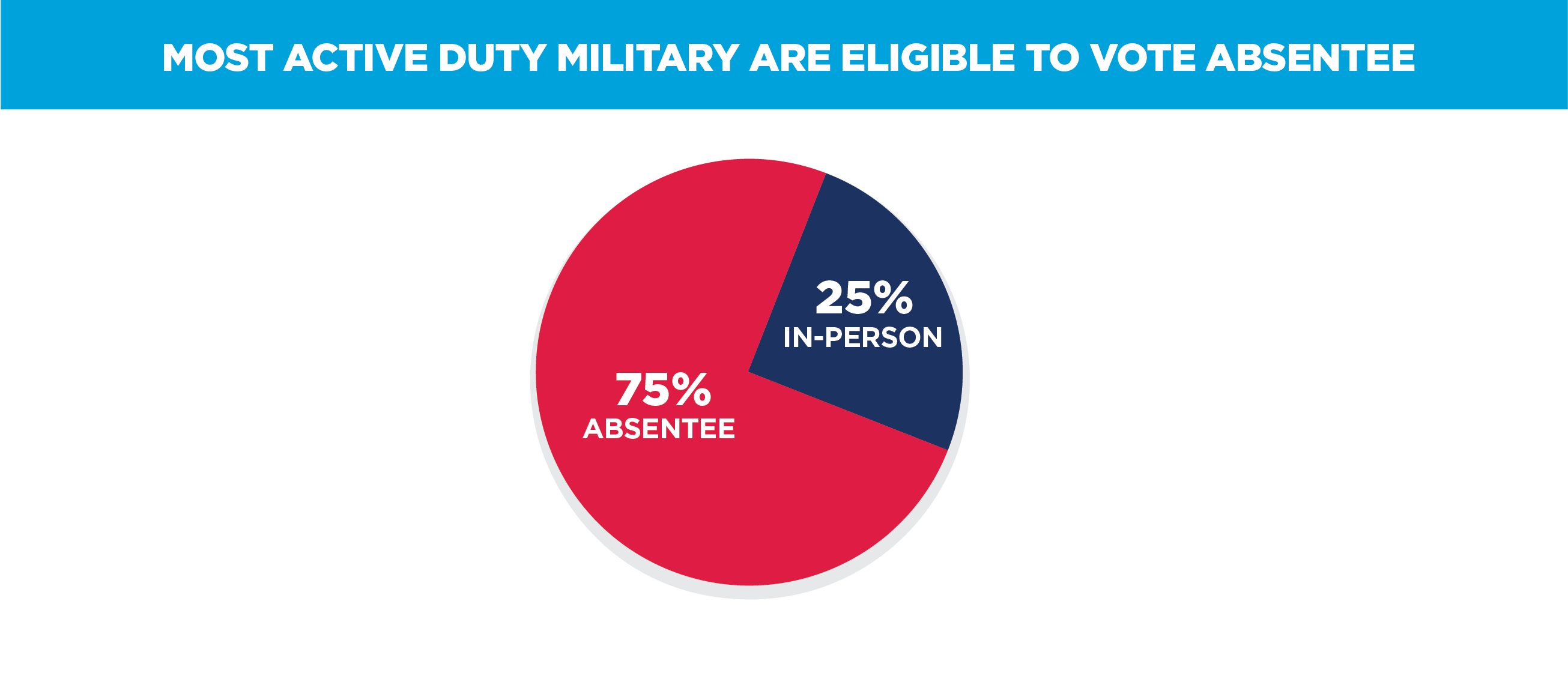 About three-quarters of active military members are eligible to vote absentee under UOCAVA because they live 50+ miles from their voting residence.
In 2020, two-thirds of military members expressed an interest in voting, with 17% explicitly uninterested and 16% neither interested nor uninterested.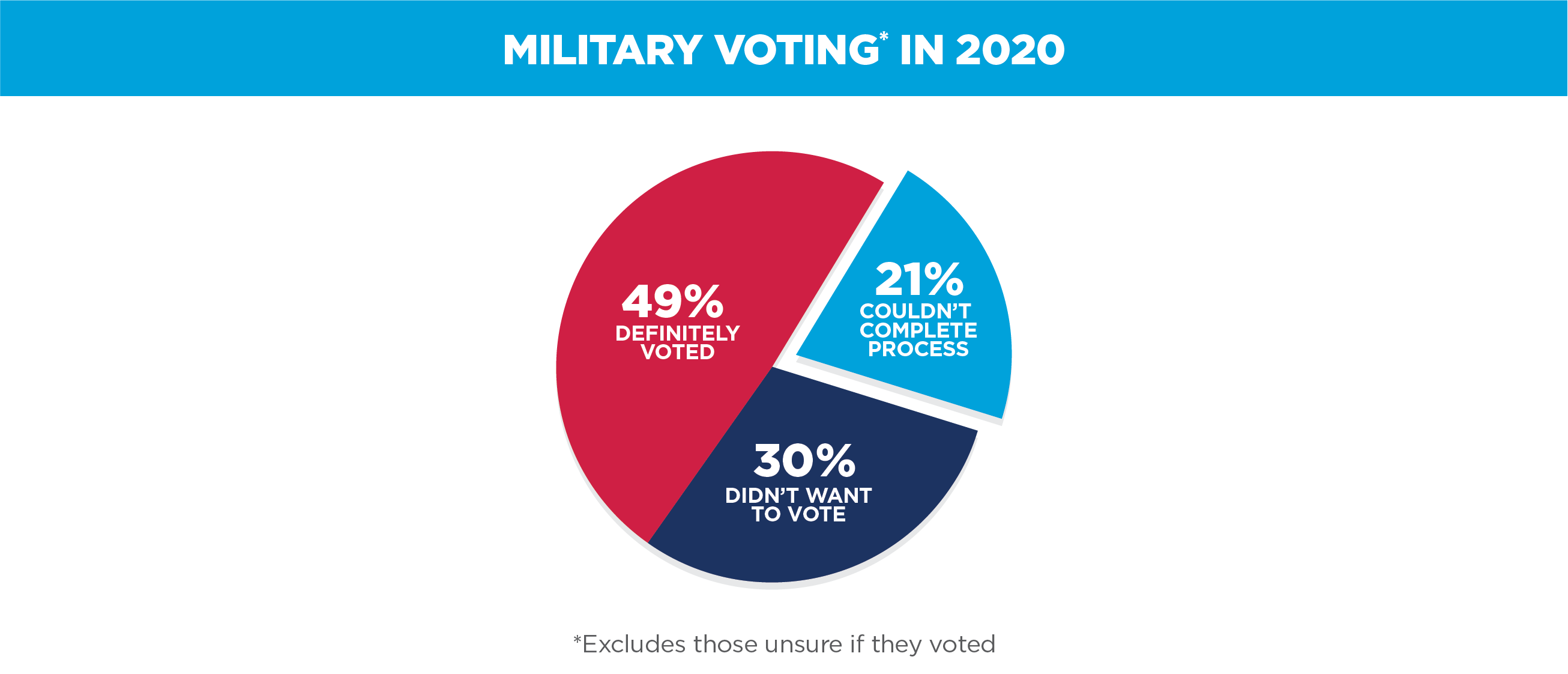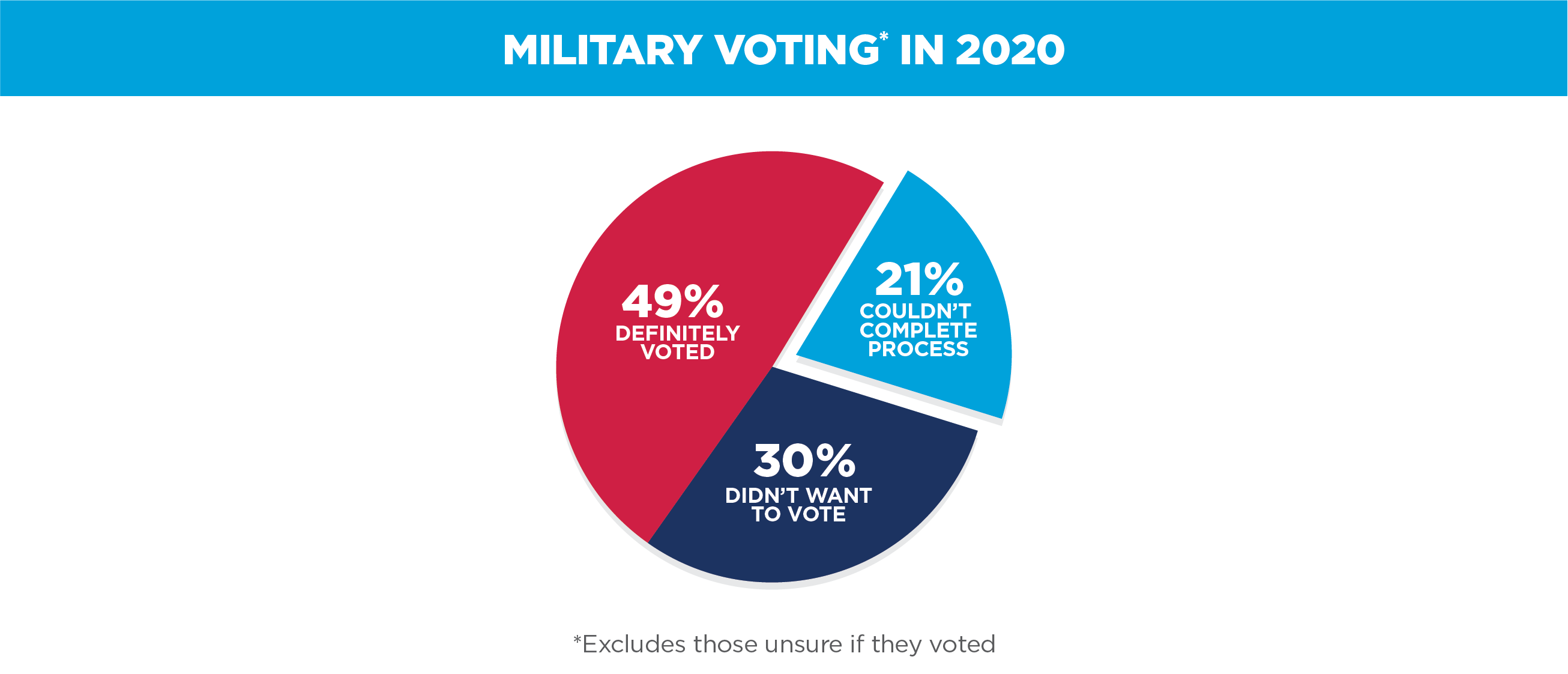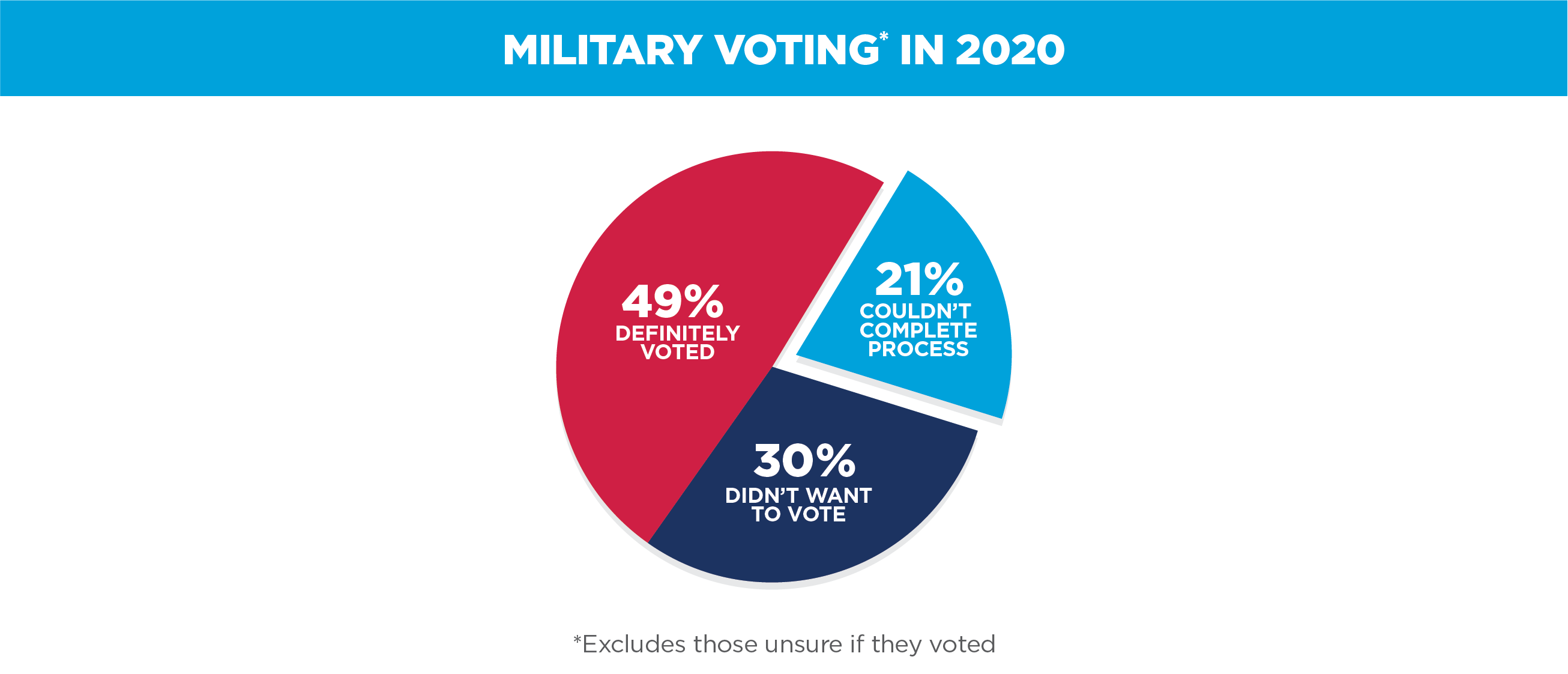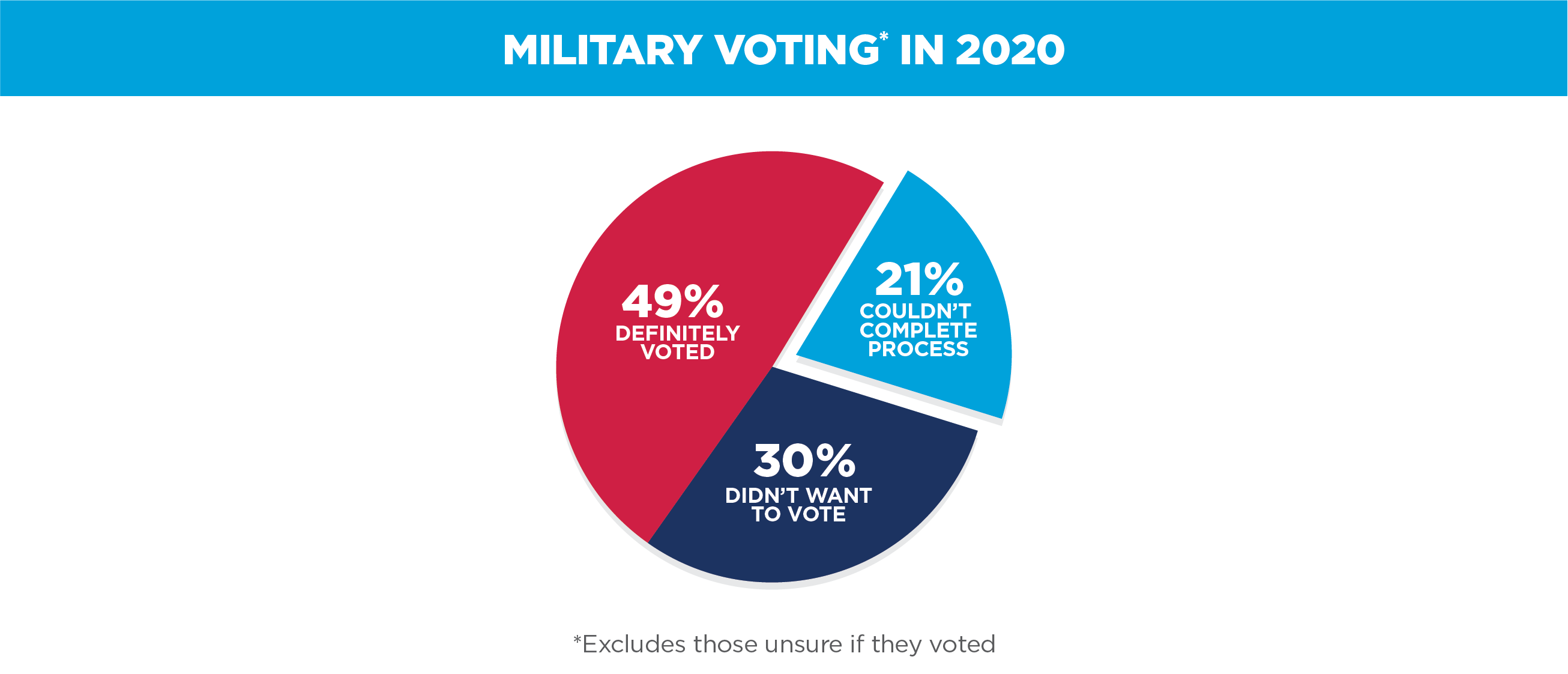 In 2020, a fifth of military members tried or wanted to vote but did not or could not complete the process.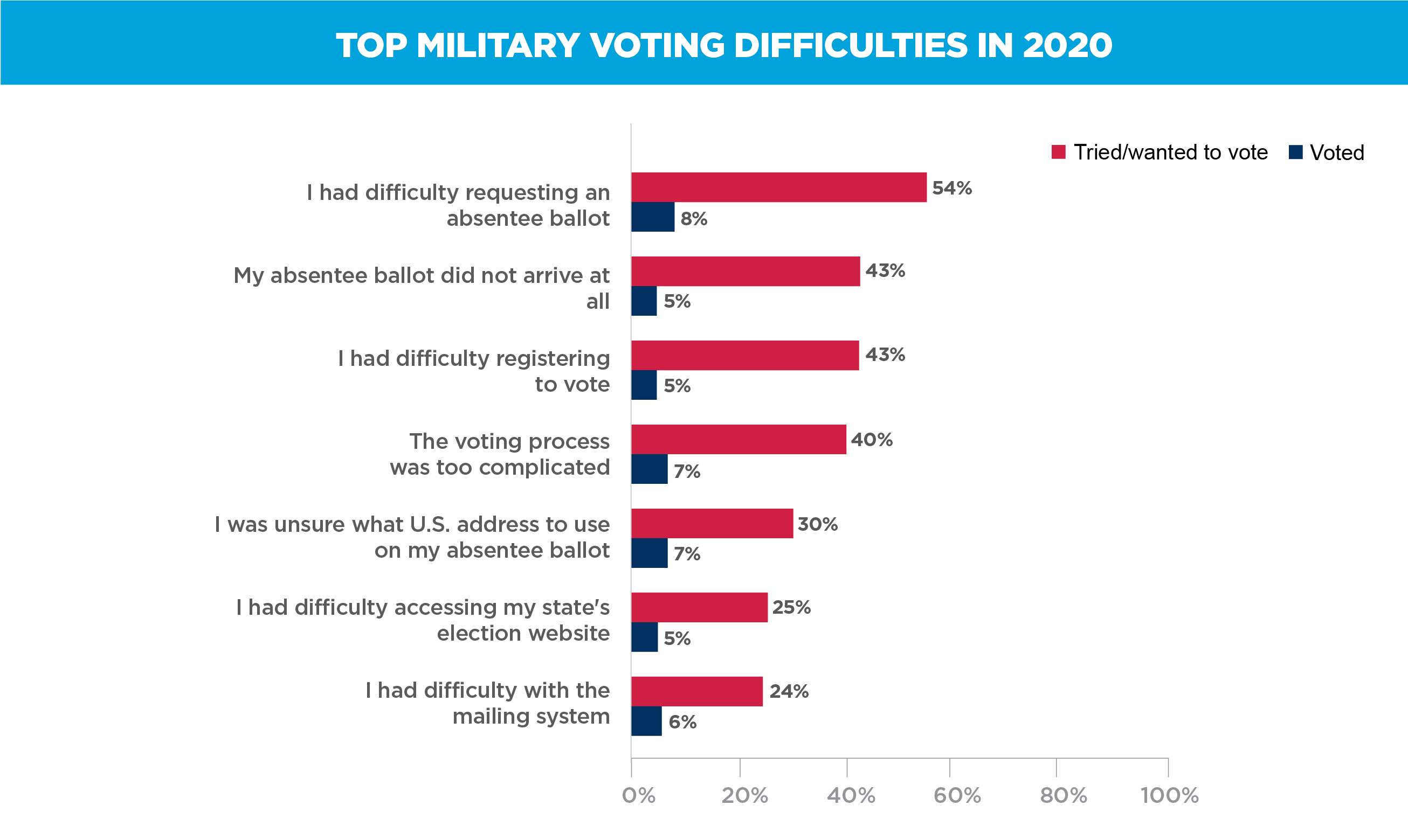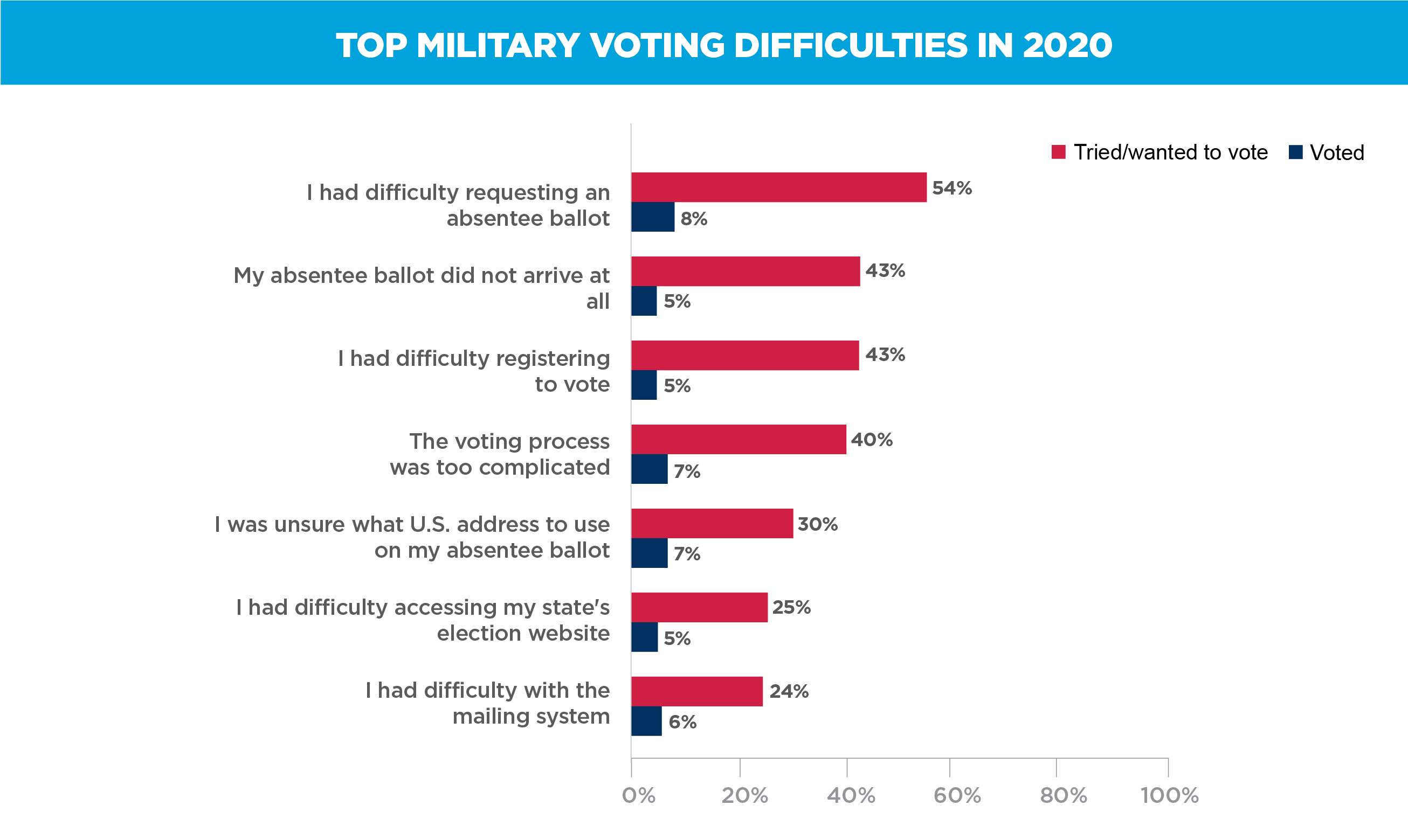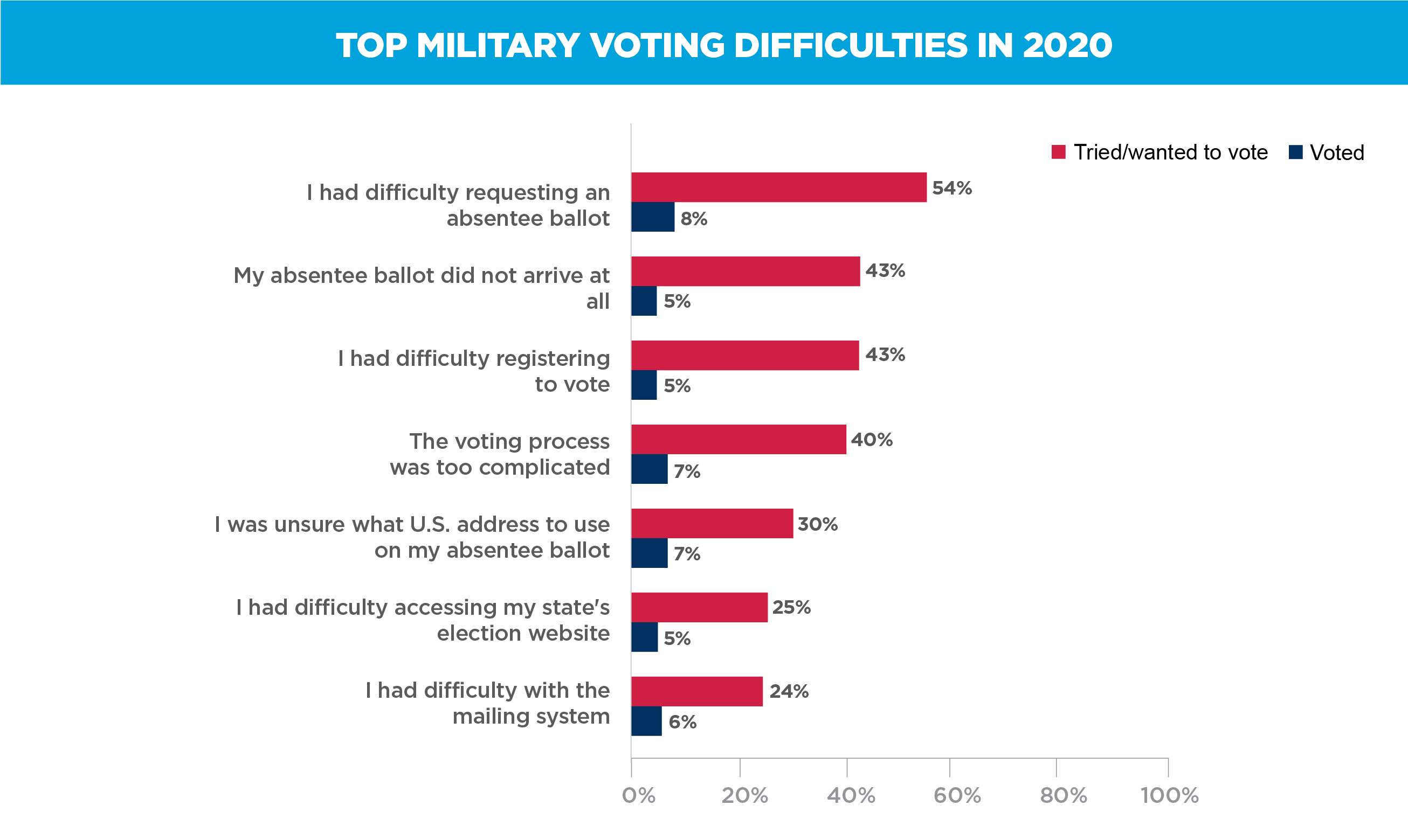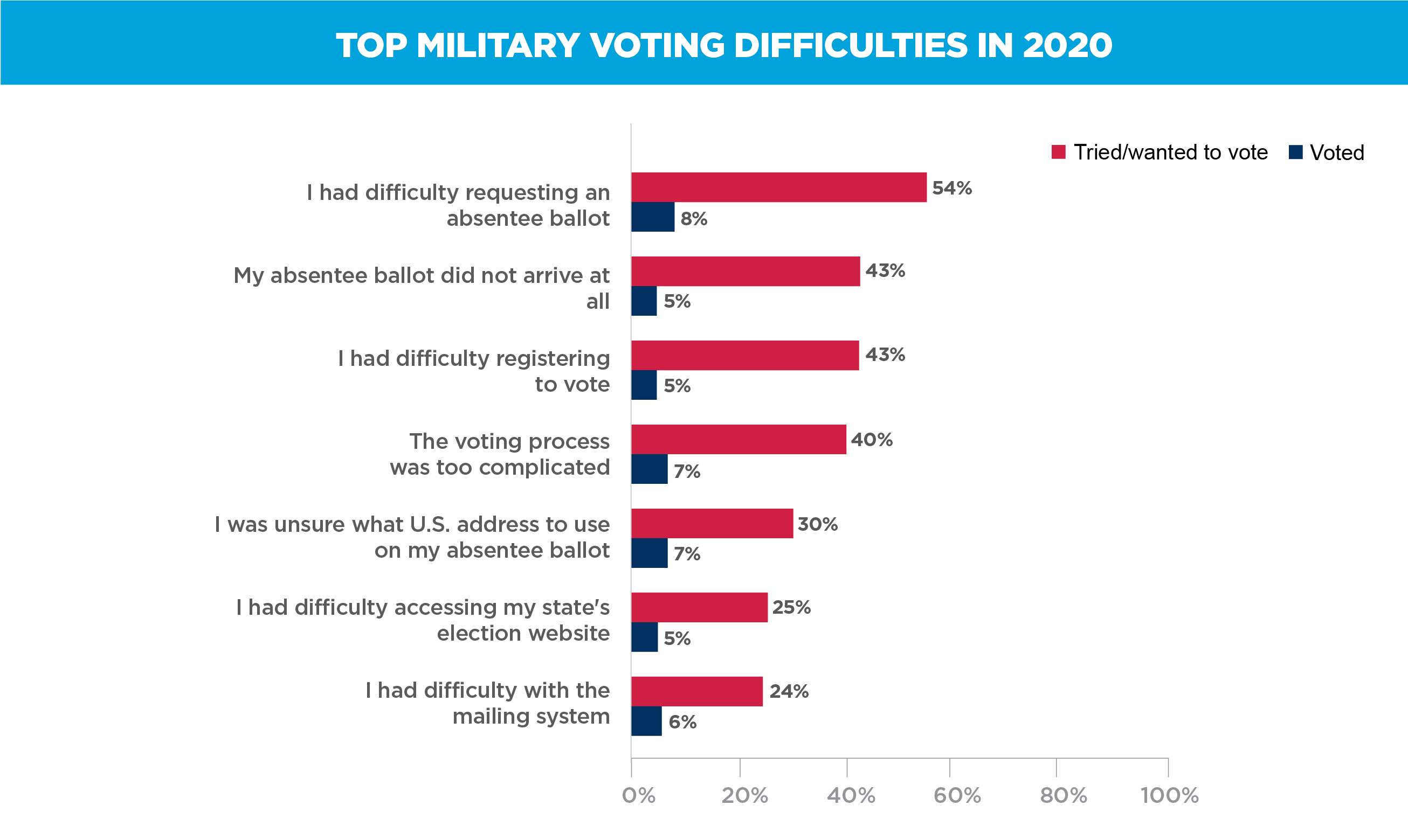 Service members often encounter problems early in the voting process, such as being unsure which address they should use, having difficulty registering to vote or requesting an absentee ballot, or having an absentee ballot fail to arrive.
As in years past, military voters most commonly cast their absentee ballots by mailing them. In many states, absentee ballots must be mailed; however, 33 states and territories allow military absentee voters to submit their ballots using one or more electronic methods.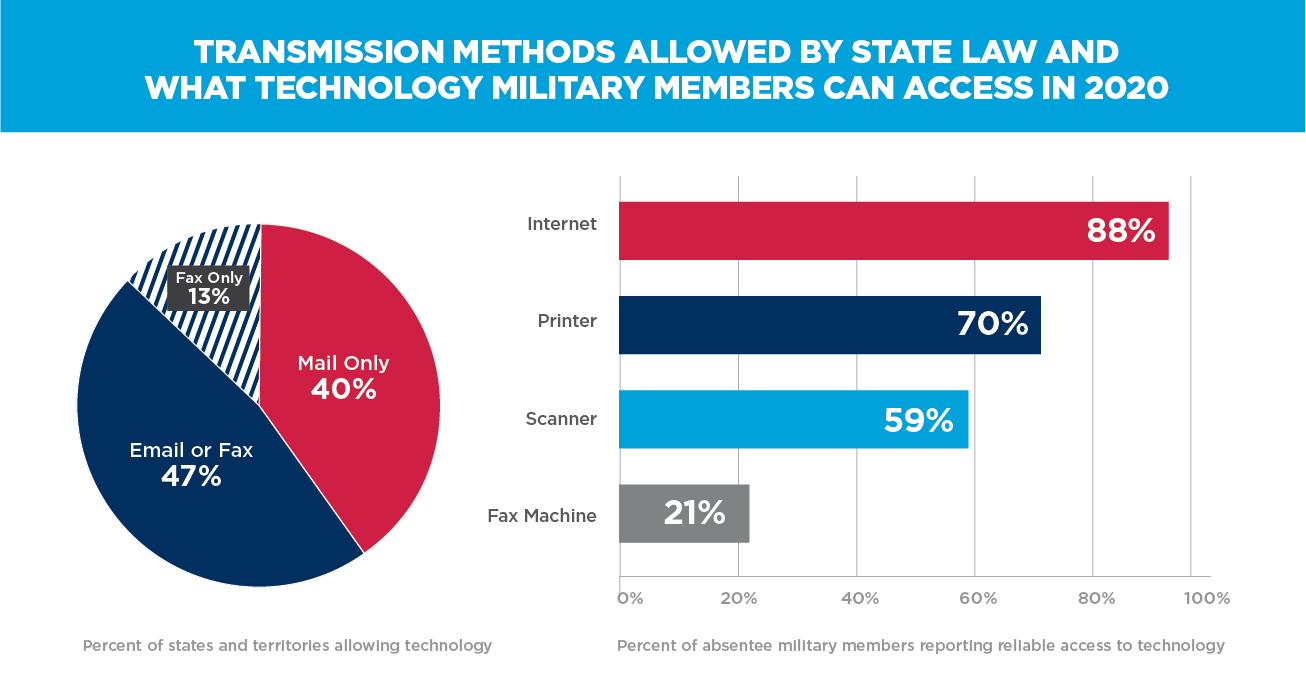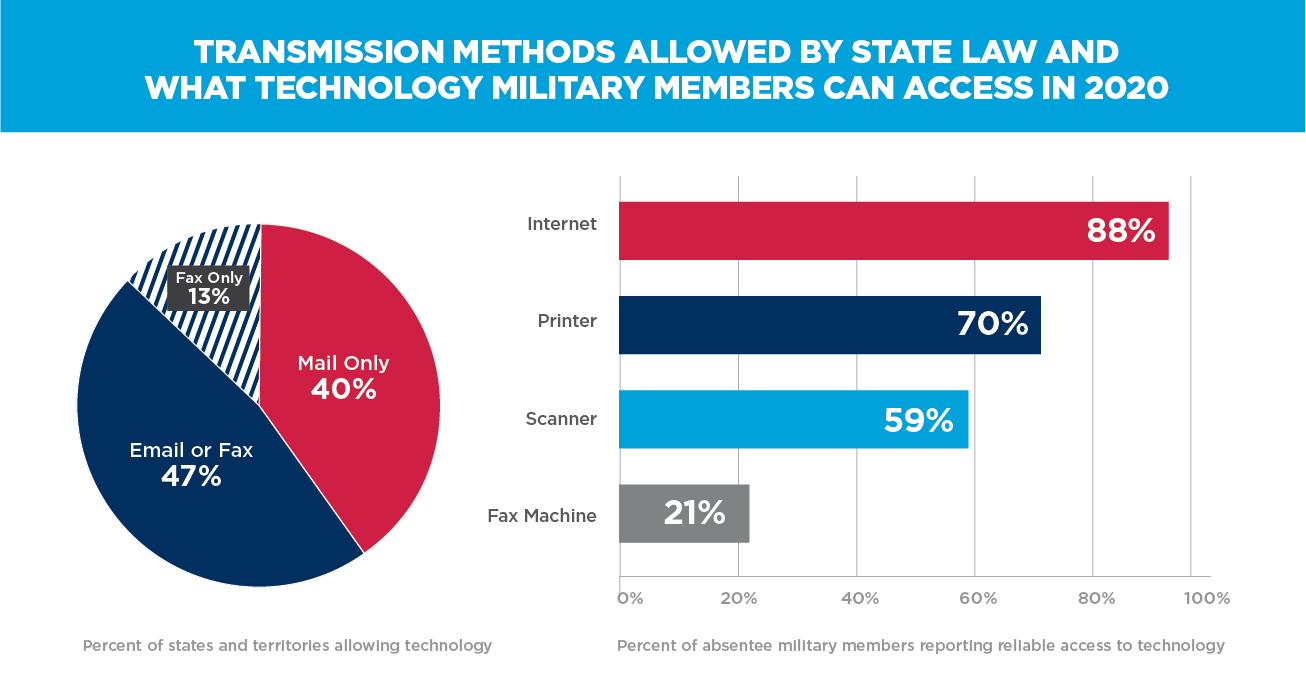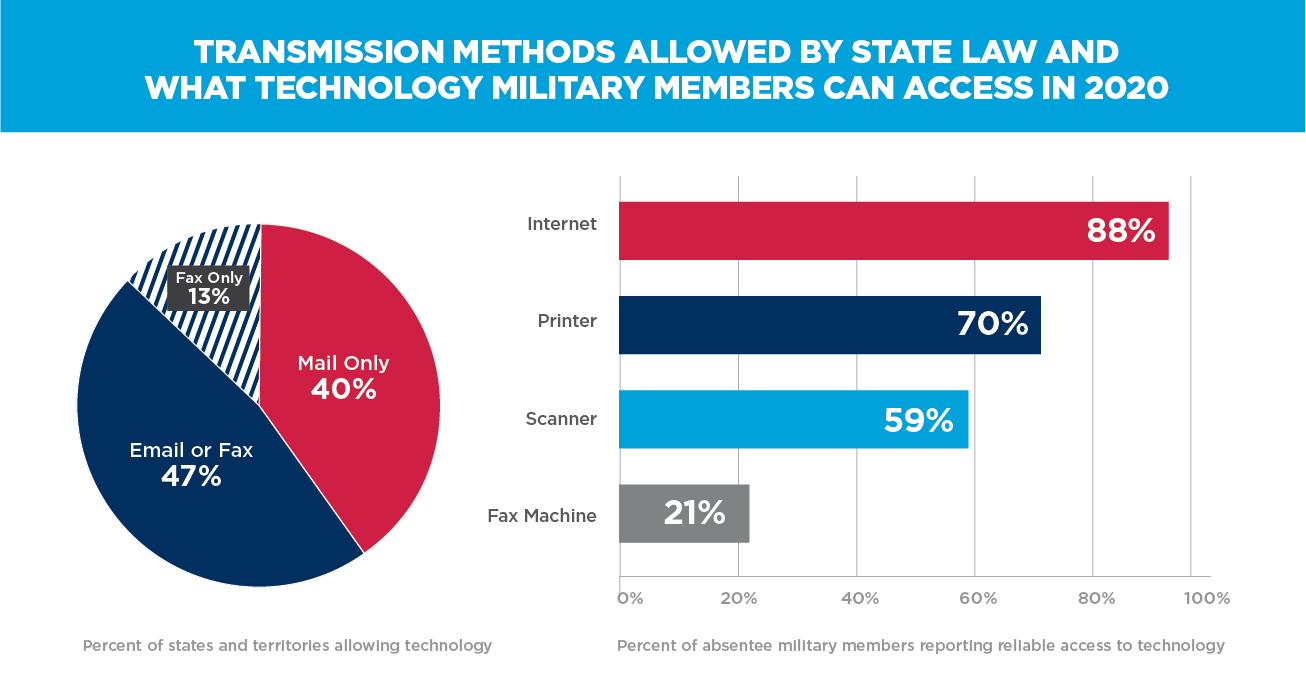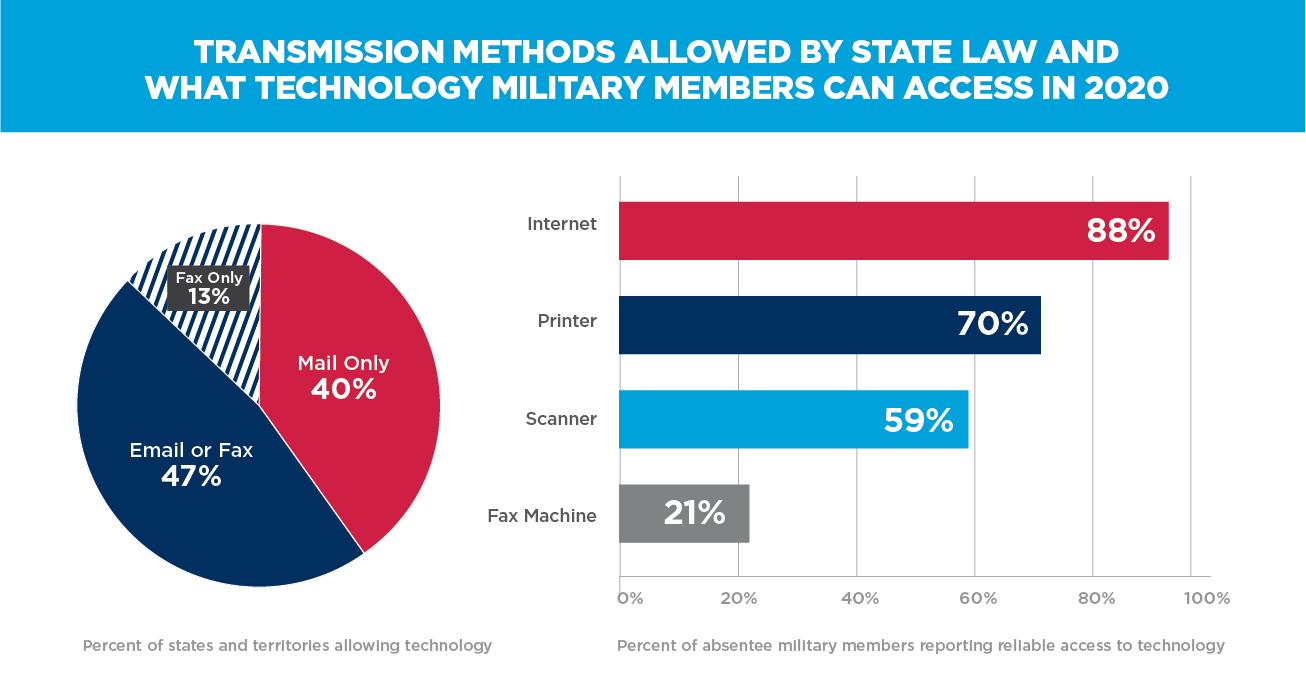 Younger military members are less likely to vote — and more likely to need help doing so
As a group, Service members who are 18-24 years old are less experienced with voting, less confident in their knowledge of each step of the absentee voting process, and less likely to take voting-related actions.
The good news: when they seek help from a DoD resource, they're more likely to return their ballot successfully.
Documenting the State of the Military Voter after Every Election
FVAP conducts post-election surveys and studies voter file data after every federal election. The State of the Military Voter highlights recent statistics on military voting based on the Post-Election Voting Survey of Active Duty Military (PEVS-ADM) which is sent out to a sample of active duty members after each general federal election. See the 2020 PEVS-ADM Technical Report, and previous PEVS-ADM reports here:
See previous volumes of the State of the Military Voter:
More information on military voting is available in FVAP's Interactive Data Center, Post-Election Report to Congress, See FVAP's repository of military voting data and reports extending back to 1962.
Separately, FVAP releases research on the voting experiences of U.S. citizens residing abroad as part of the State of the Overseas Voter.