State of the Military Voter
About three-quarters of the 1.3 million active duty military members are eligible to vote absentee with special protections because they're stationed away from their voting residence.
They're covered by the Uniformed and Overseas Citizens Absentee Voting Act (UOCAVA) of 1986, which requires states to allow these military members, their eligible family and overseas citizens to vote absentee in federal elections.
Voting is more complicated for military members stationed away than for local voters. They have to update their registration and explicitly request an absentee ballot — potentially every year. They have to follow their state's rules on how election paperwork can be sent and received, which may require technology not readily available or long mailing times. Most need to vote earlier than local voters so that their ballots are received by voting deadlines.
The MOVE Act: A Retrospective

In the mid-2000s, the ability of military members to vote successfully from abroad was called into question. Of the one million ballots sent to military and overseas voters in 2006, only one-third were cast or counted.

Many overseas military members lacked sufficient time to vote — enough to request, receive and return a ballot in time for it to be counted — according to a 2009 report by the Pew Center on the States. It found that up to half of states needed to improve their absentee voting process to ensure overseas military voters could obtain a ballot with sufficient time to return it.

In response to these growing concerns, Congress passed the Military and Overseas Voter Empowerment (MOVE) Act amending UOCAVA in October 2009. The law required that states:

- Transmit ballots at least 45 days before federal elections
- Offer at least one method of electronic transmission (email, fax, online portal, etc.) of voting information and blank ballots
- Transmit ballots automatically within the calendar year of the ballot request

In the decade since the MOVE Act was first passed, voting data from the 2018 General Election demonstrate its impact: In 2018, 53 percent of the ballots sent to military and overseas voters were successfully counted.

The MOVE Act has greatly reduced time-related obstacles to voting for military members. Data from elections in the years 2000 to 2004 show that 30 percent of military members did not vote because their absentee ballot did not arrive or arrived too late. Today that figure has been nearly cut in half at 17 percent.

In 2018, far fewer would-be voters (military members who wanted to vote but didn't) cited ballot receipt issues as their reason for not voting. Twelve percent did not receive their absentee ballot, and five percent said their ballot arrived too late. While ballot receipt remains a challenge, this suggests that the protections given under the MOVE Act have been effective in reducing this barrier to voting.

Prior to the MOVE Act, 37 states would transmit blank ballots electronically. In half of those states, the option was limited to fax. In six states, electronic options were allowed only in circumstances like deployment to a combat zone. During the 2018 election, all 50 states met federal requirements for at least one electronic ballot transmission option. In fact, all states would transmit blank ballots to military and overseas voters by email or online as of 2018.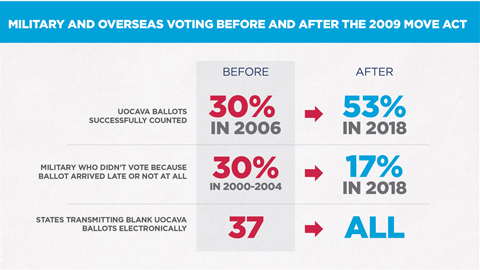 State of the Military Voter in 2018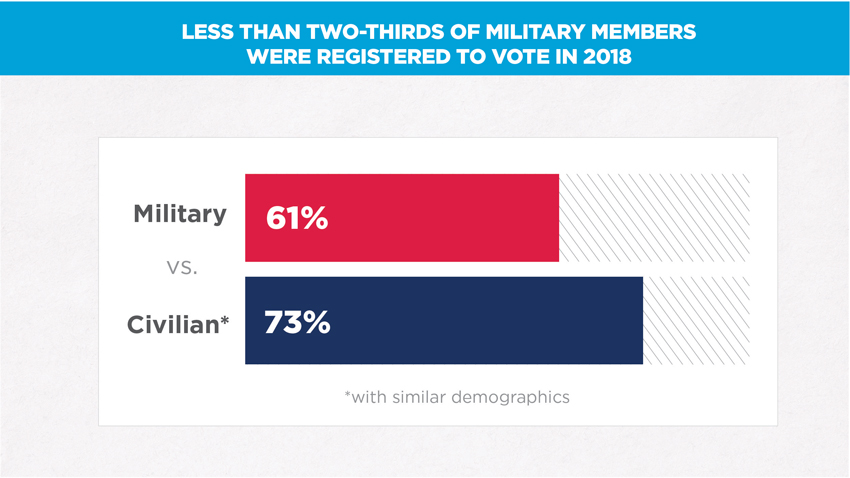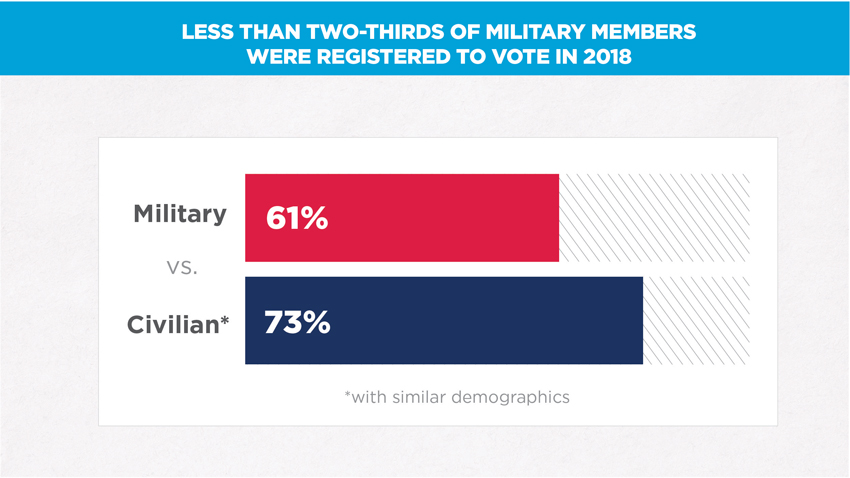 When adjusting for demographic differences between Service members and civilians (age, gender, education, etc.), the registration rate for military was 12 percentage points lower than the general population.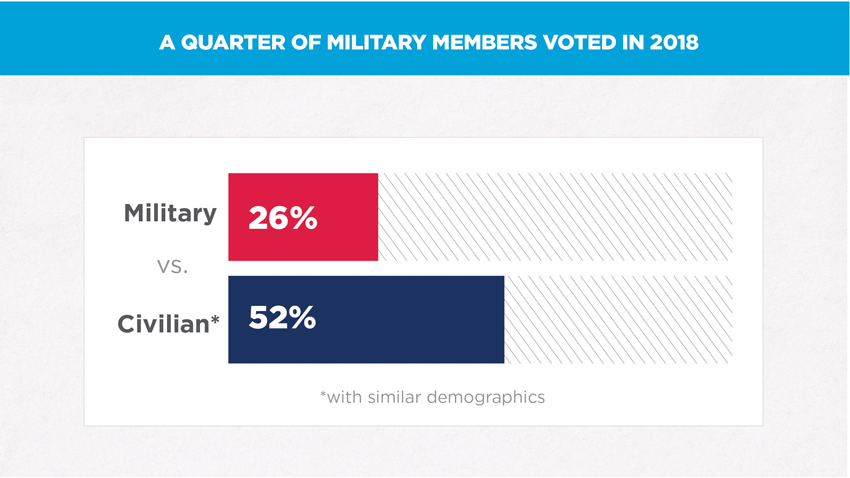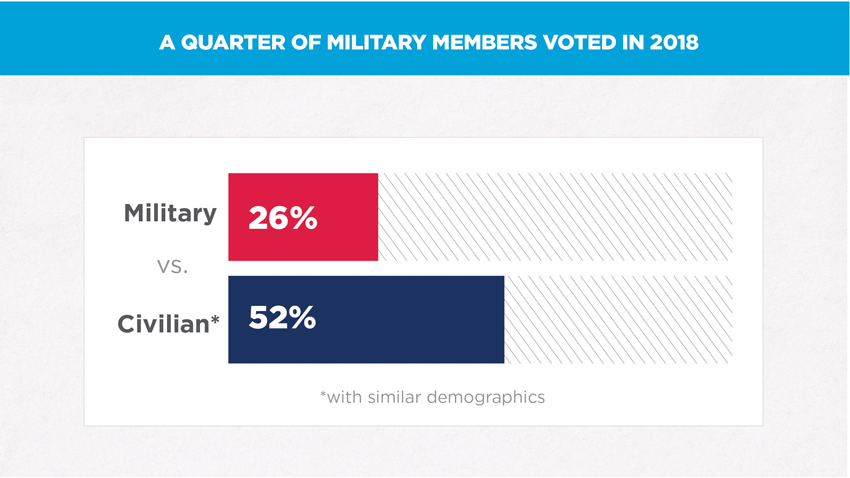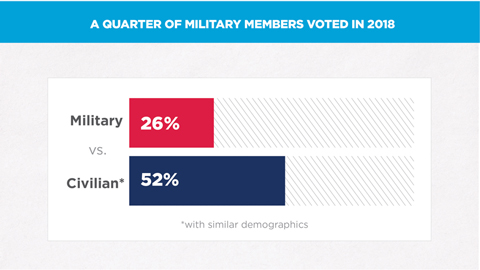 Turnout among the civilian population, on the other hand, was at a record high. Among civilian voters with similar characteristics, turnout hit 52%, resulting in a 26-percentage-point difference between military and civilian voters in 2018.
Civilian turnout likely reflects the high intensity and levels of voter interest seen domestically in the run-up to Election Day 2018.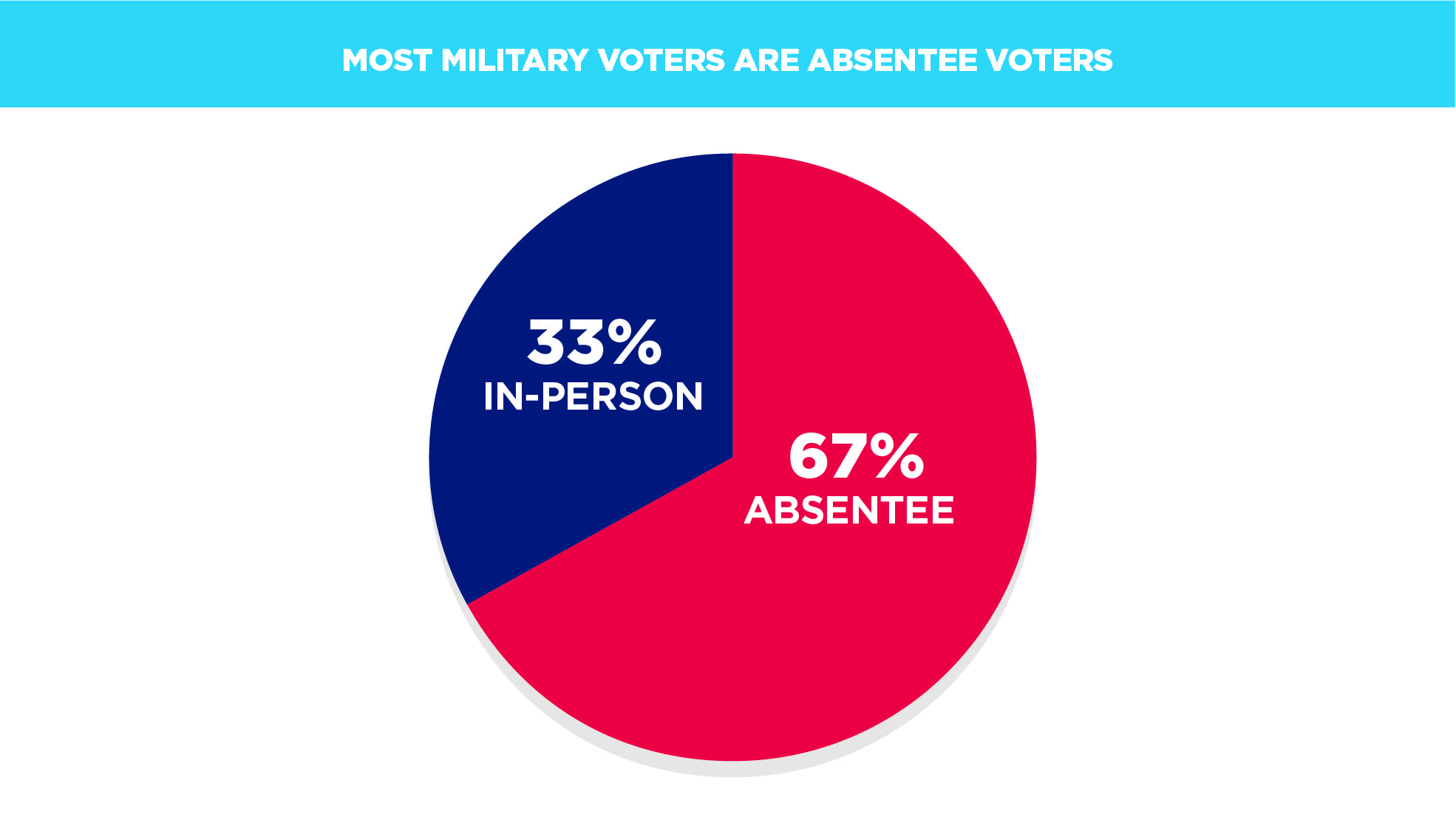 About three-quarters of active military members are eligible to vote absentee.
More than two-thirds of Service members who voted in 2018 did so via absentee ballot. That's an increase from 2014.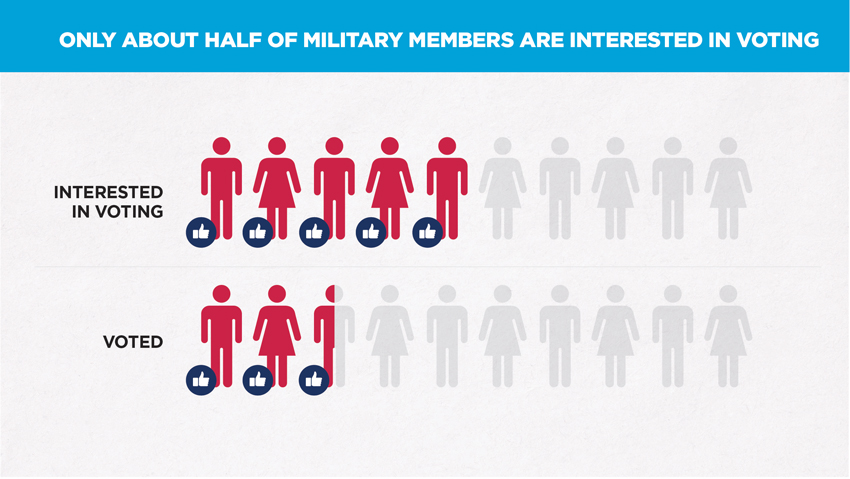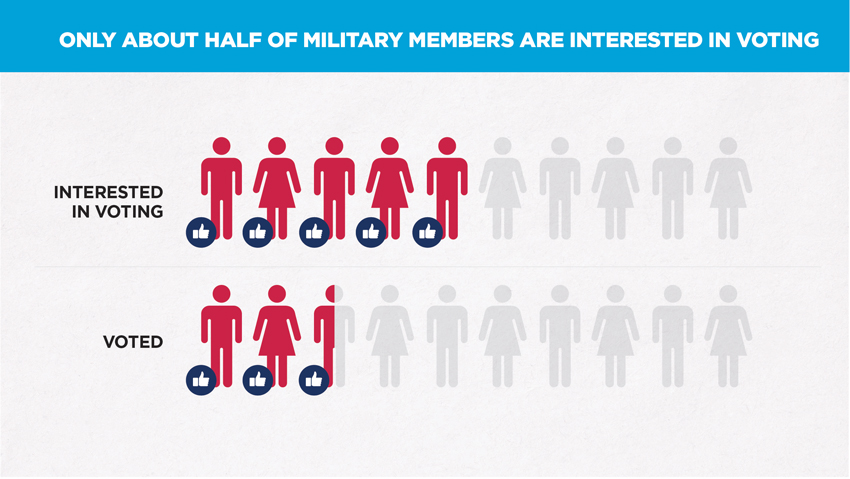 In 2018, 49 percent of military members lacked interest in voting, with 24 percent explicitly uninterested and 25 percent neither interested nor uninterested. Only 44 percent planned to vote in 2018.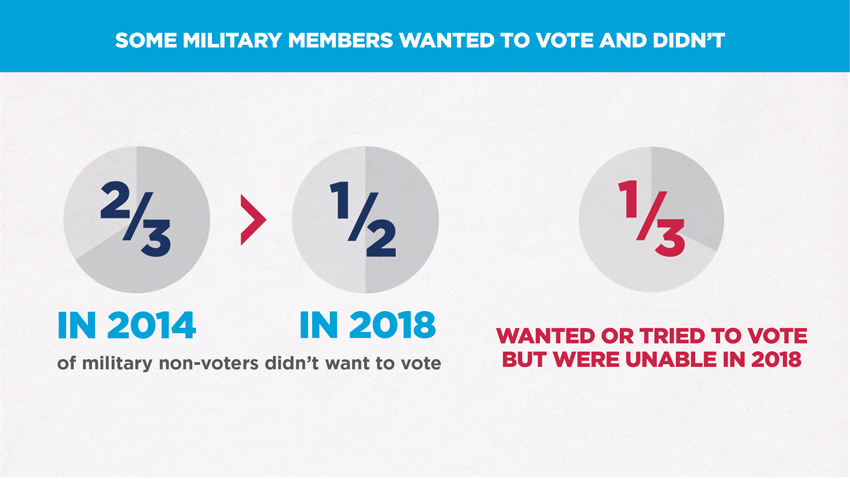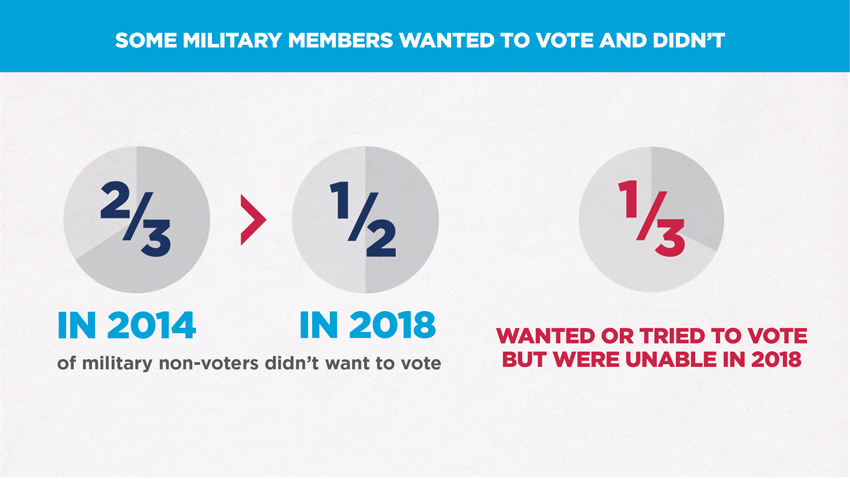 In 2018, half of military members who did not vote said it was because of lack of motivation — a decrease from 2014.
But nearly one-third of non-voters wanted or tried to vote but were unable to do so.
There are different reasons that motivated non-voters did not cast a ballot, such as a lack of information to complete the absentee voting process or challenges with the process like not receiving a ballot or receiving it too late.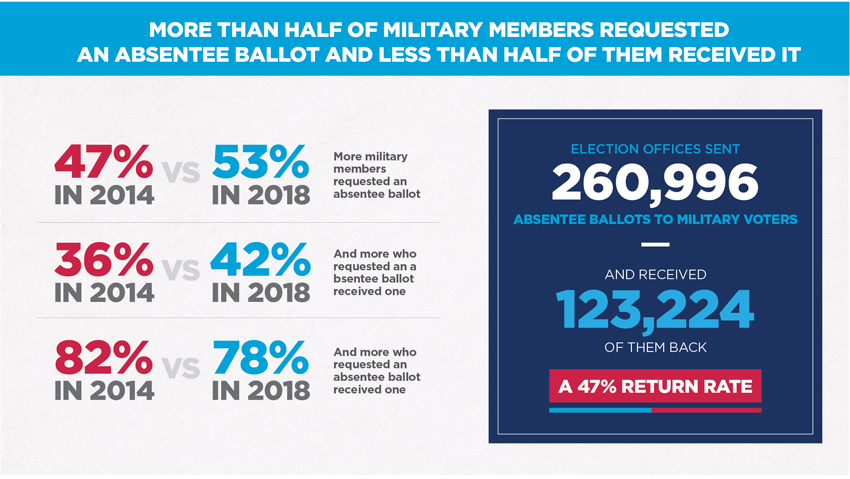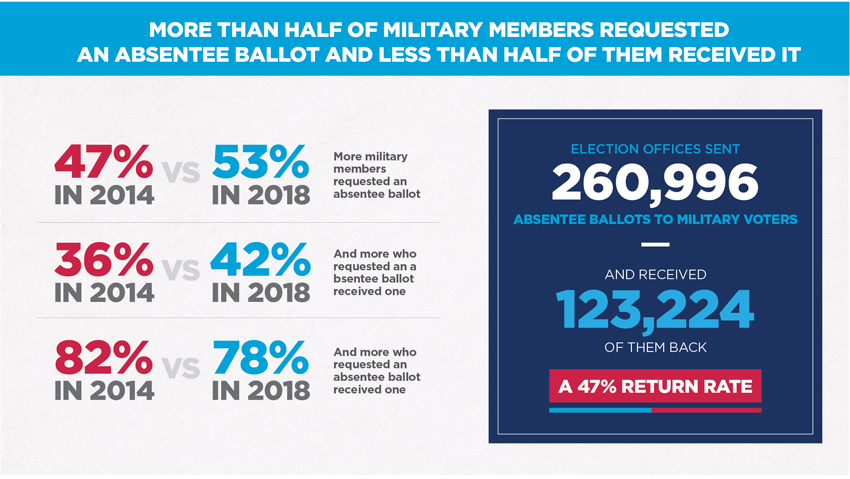 There was an increase in the portion of military members who reported requesting and receiving absentee ballots in 2018 when compared to the last midterm election in 2014, but a decrease in ballot return.
Improving the Voting Experience Post-MOVE Act
Ten years after the MOVE Act, military members are enjoying a better voting experience, though more can be done to improve their access and success when voting absentee.

Use of electronic options for sending and receiving election materials between voters and election offices has rapidly increased in recent elections. In 2018, election offices reported transmitting over half (57 percent) of military and overseas ballots by email. In contrast, in 2014, only 36 percent of these ballots were transmitted via email.

Although voters from all states can receive blank ballots by email or online, in most states they can't submit their voted ballots the same way. For ballot return, mail remains the only universally accepted method. However, states are increasingly allowing military and overseas voters to return completed ballots electronically. Prior to the MOVE Act, mail was the only option for these voters to return their completed ballot in the majority of states. In 2018, just 19 states restrict ballot return to mail.

While a few states have developed online portals or apps, fax and email are the most common electronic options for ballot return. However, voters have less access to fax technology. In 2018, use of FVAP's email-to-fax service (for voters who do not have access to a fax machine and vote in a state that allows fax but not email) increased by over 230 percent from the 2014 election.

Some states restrict electronic return to military who are deployed and overseas voters who experience special circumstances preventing timely mail return. Some states are experimenting with electronic return using other online technologies.

While mail remains the most common method of ballot return (82 percent of military absentee voters) partly due to states restricting their submission method to mail, electronic options are growing in availability and usage. Despite extremely limited availability, five percent used an online website or portal to return their absentee ballot in 2018. Email is the most popular electronic option with 12 percent of military absentee voters using it to return their ballot.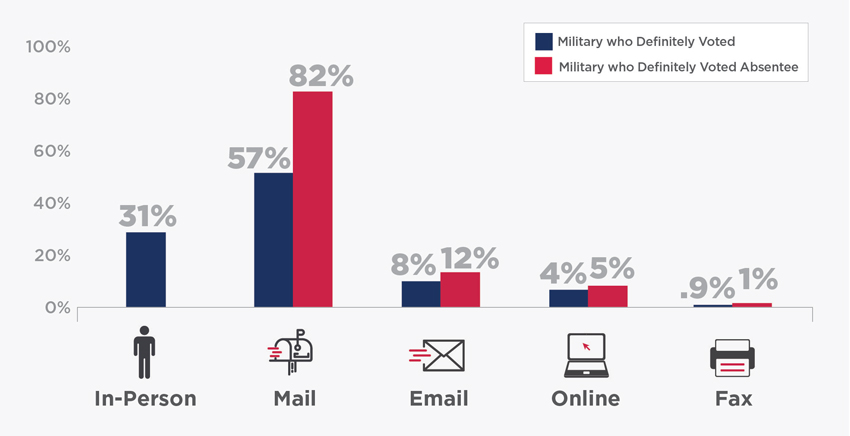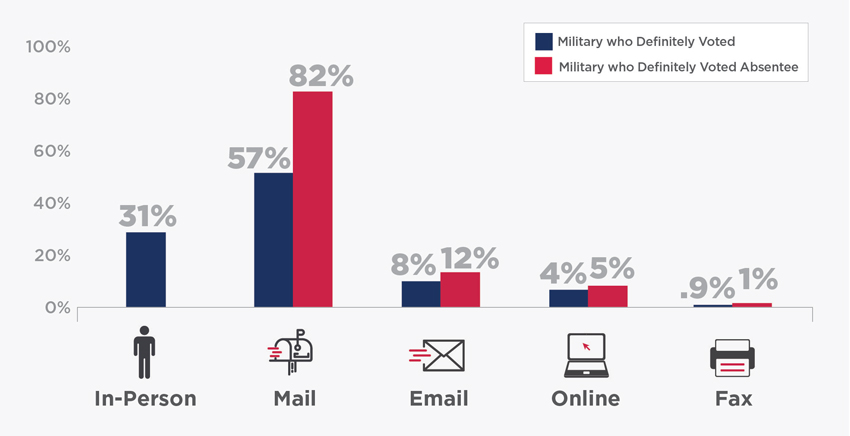 As more and more official business is conducted online, many states are exploring further electronic methods for voter registration and ballot return.

After the 2018 election, nearly half (48 percent) of military members reported that they would have liked the option to vote online. A slight majority (53 percent) were not worried about the security of their personal information. In fact, military members expressed more confidence in online voting than the current absentee voting system: 59 percent of those who wanted the option to vote online were confident online ballots would be counted correctly, compared to 49 percent who were confident that their ballot would be counted under the current system.

Another barrier to electronic ballot return is many states' requirement for handwritten signatures for election security purposes, which necessitates that a voter have access to a printer (and scanner if submitting online).

The use of digital signatures through the Common Access Card (CAC) used by military members would allow them to complete election-related activities — such as submitting the ballot request form or completing and returning a ballot via email — without the need for a printer. However, although the majority of states accept digital signatures for some transactions, such as tax forms, 47 percent of states indicate that they do not yet allow the use of electronic signatures to register to vote or request an absentee ballot.

States can provide an option to designate UOCAVA status in their online voter registration system so that voters receive MOVE Act protections, as 34 states did in 2018. However, it's unclear whether selecting UOCAVA status during registration also triggers an absentee ballot request.
Cataloging the State of the Military Voter after Every Election
FVAP has established a research repository of military voting data based on post-election surveys and studies of voter file data after every federal election for the purposes of presenting trending data that define the State of the Military Voter and demonstrate how the military vote has changed over time.
It is released after every federal election year as a public report based on the Post-Election Report to Congress. Future reports will collect here over time.
Separately, FVAP releases research on the voting experiences of U.S. citizens residing abroad as part of the State of the Overseas Voter.