Overseas Citizens
In 2018, an estimated 4.8 million U.S. citizens lived abroad. About 2.9 million of them were 18 or older and eligible to vote in U.S.
federal elections. Historically, little was known about these citizens — not even how many there are or where they live. FVAP conducts the biennial Overseas Citizen Population Analysis (OCPA) to better understand this population and how its members navigate the absentee voting process. OCPA combines the first representative survey of overseas registered voters with government data and voting history records to calculate overseas citizen voting participation rates.
Population of Overseas U.S. Citizens and Voter Turnout by Country
To estimate how many overseas citizens there are, where they are located, and the number who are eligible to vote, FVAP models data combined from foreign government estimates of residents who are U.S.-born or U.S. citizens, U.S. administrative data on particular groups of overseas citizens (e.g., those who have declared foreign income to the IRS or receive Social Security benefits at an overseas address), and multiple sets of predictors from the academic literature on migration.
Click on the map below for estimates of each country's total U.S. citizen population (including children), voting-age U.S. citizen population, and voting rate. The tabs provide estimates from different years.

FVAP combines state data on the number of ballots requested and submitted by voters with the estimates of eligible voters to calculate
overseas voter turnout overall and by country.
Comparing Voting Rates of Domestic and Overseas Citizens
Compared to the domestic population, a much lower percentage of U.S. citizens who live abroad vote in each federal election. FVAP uses survey responses from overseas citizens who requested a ballot to divide this voting gap into an obstacles gap and a residual gap. Obstacles are factors that impede the speed at which voters receive and transmit election materials — voter registration forms, ballot requests, and ballots themselves.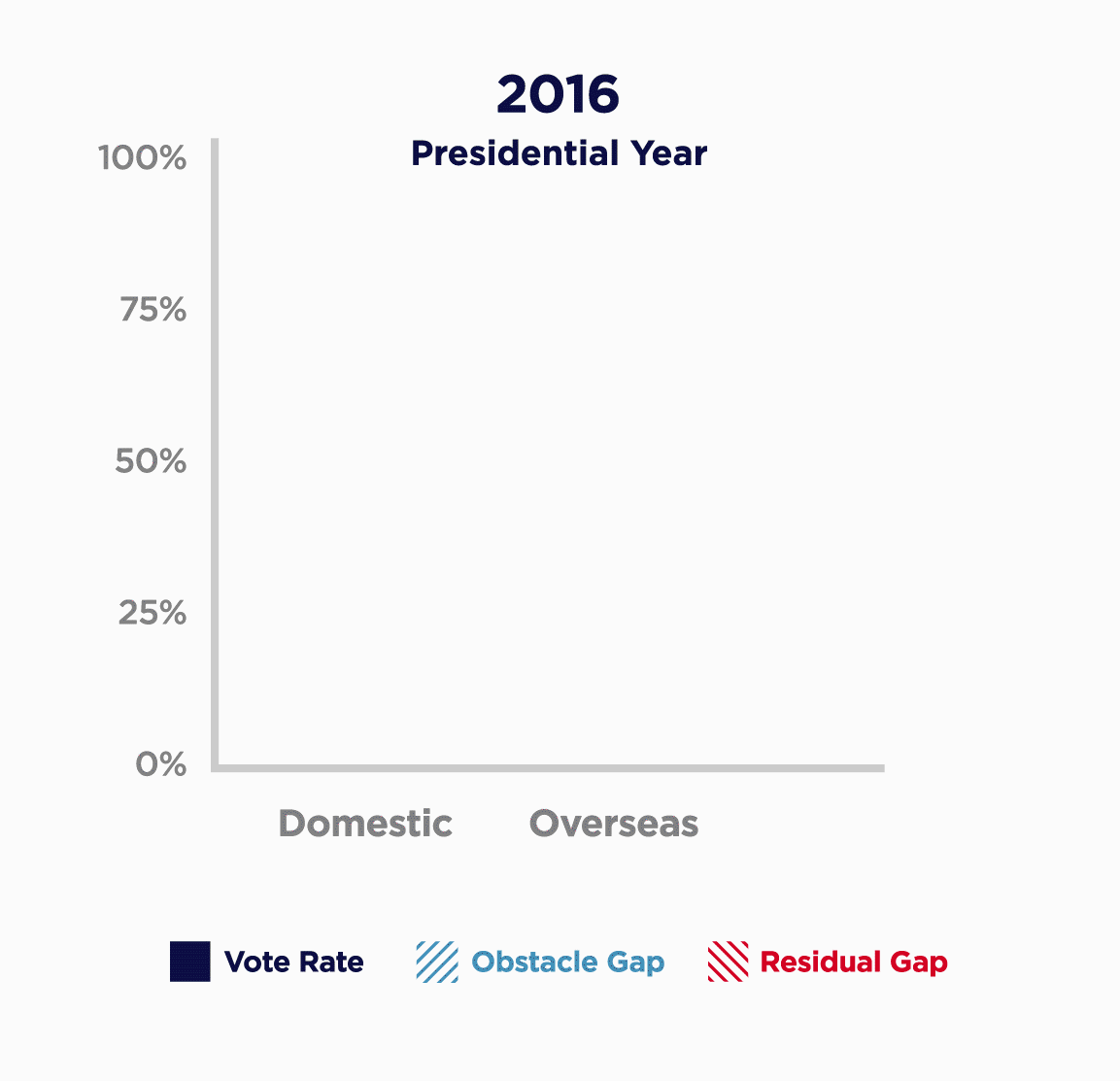 Vote Rate: Domestic vote rate is based on respondents to the U.S. Census Bureau's Current Population Survey who answered "yes" when asked if they voted in that year's election.* Overseas citizen vote rate is the percentage of the voting age population that submitted a ballot and had a vote recorded in state vote history records
Obstacles Gap: The percentage of overseas citizens who wanted or tried to vote but were unsuccessful.
They may have been helped by voter education, state legislative changes, or improved communication
with election offices.
Residual Gap: The percentage of overseas citizens who did not vote because of factors that cannot be
resolved within the voting process, such as lack of interest or motivation.
*Domestic vote rates shown here differ from Census Bureau estimates. The Census Bureau combines people who did not know if they voted or did not answer the question with those who said they did not vote, leading to a larger percentage of nonvoters. Those two groups are excluded from the domestic vote rate reported here because it is unknown if they voted.

Characteristics of Overseas Voters
FVAP'S Overseas Citizen Population Analysis includes a representative survey of overseas registered voters who requested a ballot for that year's General Election. The survey details the demographic characteristics and voting experiences of this voting bloc.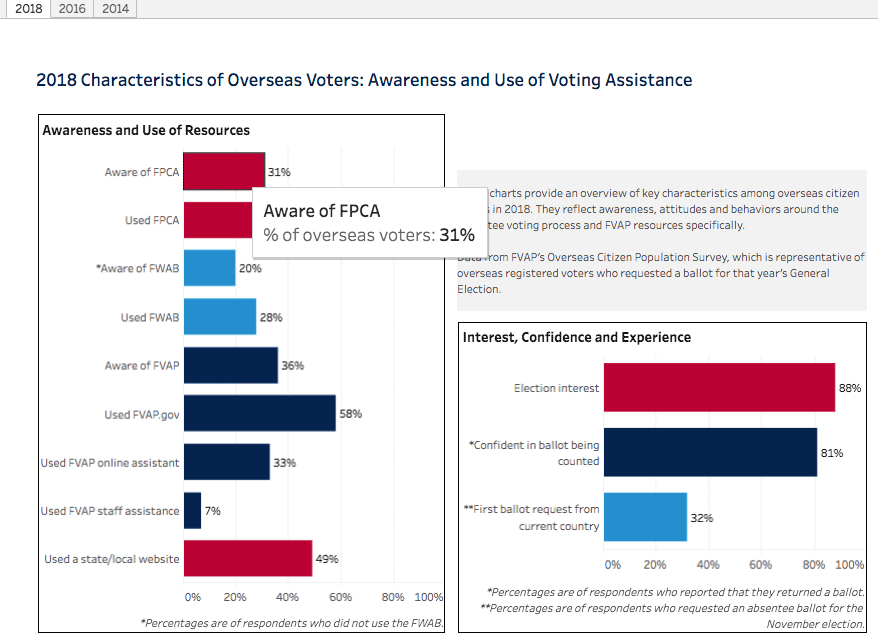 Additional Research and Reports
State of the Military Voter provides the most current data on voting by U.S. citizens living abroad. FVAP's annual Reports to Congress and technical reports on the biennial Overseas Citizens Population Analysis (OCPA) also address voting by overseas citizens. Research Notes explore specific aspects of oversea voting in greater depth.