FVAP Releases Data on the State of the Military Voter
Data from the 2018 election show more military members are successfully casting ballots.
ALEXANDRIA, Va. — In 2018, 53 percent of the ballots sent to military and overseas voters were successfully counted — compared to only a third in 2006, according to the Federal Voting Assistance Program's (FVAP) State of the Military Voter data, examining post-election research from the 2018 General Election.
Military members stationed away from their voting residence face unique challenges compared to local voters. The ability to receive and submit an absentee ballot on time remains a central challenge.
The Uniformed and Overseas Citizens Absentee Voting Act (UOCAVA) of 1986 requires states to allow active duty military members, their eligible family, and overseas citizens to vote absentee in federal elections. The Military and Overseas Voter Empowerment Act (MOVE) amended UOCAVA and other statutes in 2009 by providing greater protections, such as requiring states send absentee ballots to UOCAVA voters at least 45 days before federal elections and provide an electronic option for sending ballots to voters.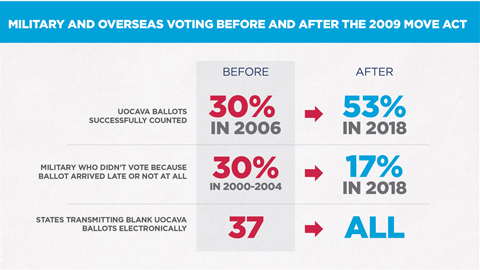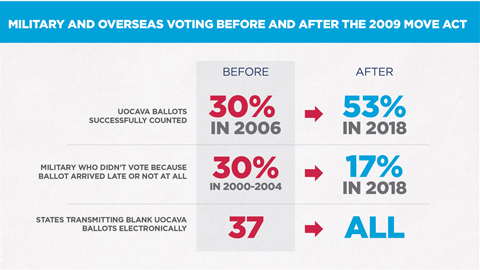 "FVAP data from elections in the years 2000 to 2005 show that 30 percent of military members didn't vote because their absentee ballot didn't arrive or arrived late," FVAP Director David Beirne said. "A decade after the MOVE Act, that figure has been reduced by nearly half."
Use of electronic options for sending and receiving election materials between voters and election offices has rapidly increased in recent elections. In 2018, election offices reported transmitting over half (57 percent) of military and overseas ballots by email. In contrast, in 2014, only 36 percent of these ballots were transmitted via email.
The FVAP State of the Military Voter data will be released annually, after each federal election year. Findings are based on post-election surveys and studies of voter file data.
For additional information, visit FVAP.gov, email vote@fvap.gov or call 1-800-438-VOTE (8683).
###
Federal Voting Assistance Program
The Federal Voting Assistance Program (FVAP) is a Department of Defense (DoD) organization that works to ensure Service members, their eligible family members, and overseas citizens are aware of their right to vote and have the tools and resources to successfully do so — from anywhere in the world.
FVAP assists voters through partnerships with the military services, Department of State, Department of Justice, and election officials from the 50 states, U.S. territories and the District of Columbia. State and local governments administer U.S. elections, including those for federal offices. FVAP supports state and local election officials by providing absentee voting information, materials, training and guidance.
Voters can contact FVAP's call center at 703-588-1584 (toll free 1-800-438-VOTE or DSN 425-1584) or at vote@fvap.gov. Find FVAP on Facebook at www.facebook.com/DoDFVAP and follow @FVAP on Twitter.