Post-Election Report to Congress
After General Elections, the Federal Voting Assistance Program (FVAP) produces a Report to Congress describing voting data among voters covered by the Uniformed and Overseas Citizens Absentee Voting Act (UOCAVA):
Active duty members of the Uniformed Services;
Their eligible family members; and
U.S. citizens residing abroad.
While FVAP reports on all three groups using surveys after the 2018 election, these highlights focus on Service members. In addition to voter registration and participation, the Report to Congress covers voting assistance provided to and used by military members. FVAP also surveys Voting Assistance Officers supporting military voters and state election offices that support military and overseas voters.
Highlights from the 2018 Post-Election Report to Congress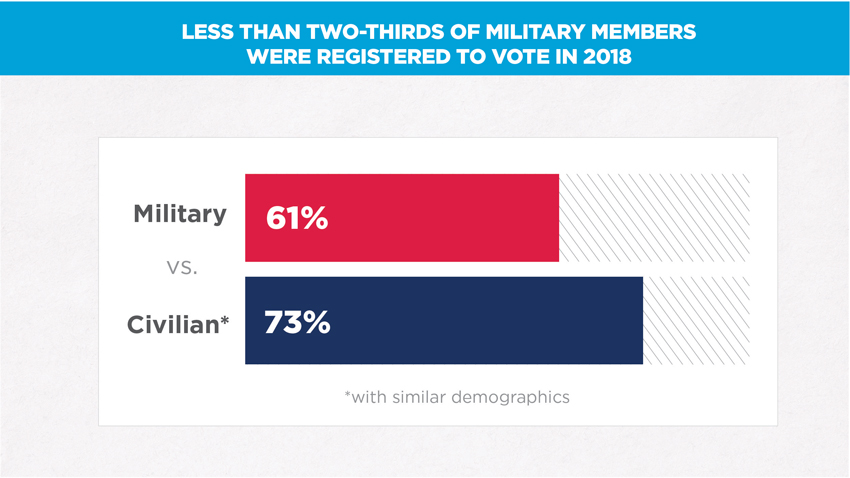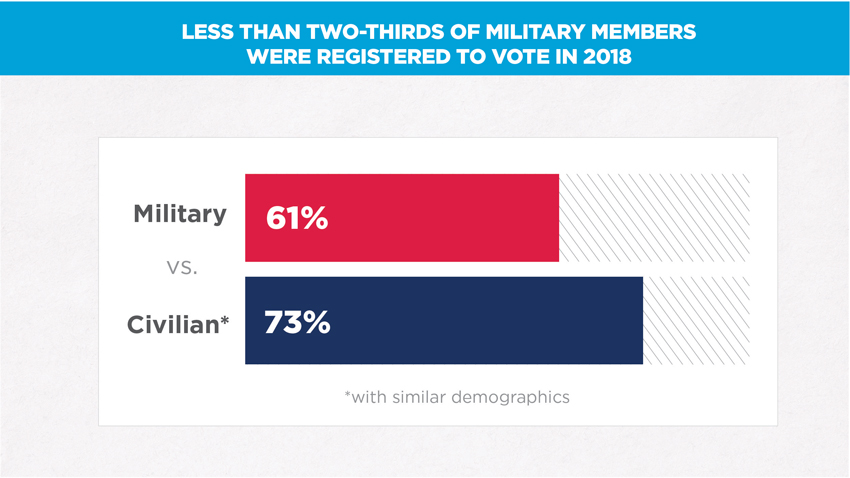 When adjusting for demographic differences between Service members and civilians (age, gender, education, etc.), the registration rate for military was 12 percentage points lower than the general population.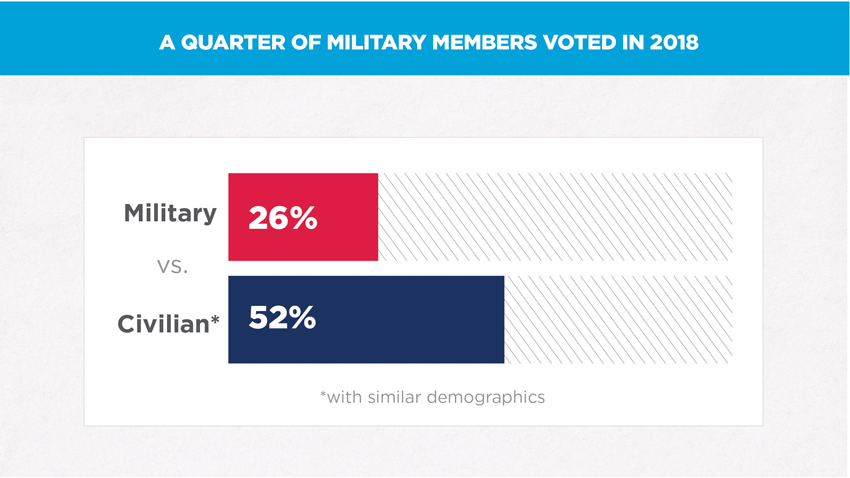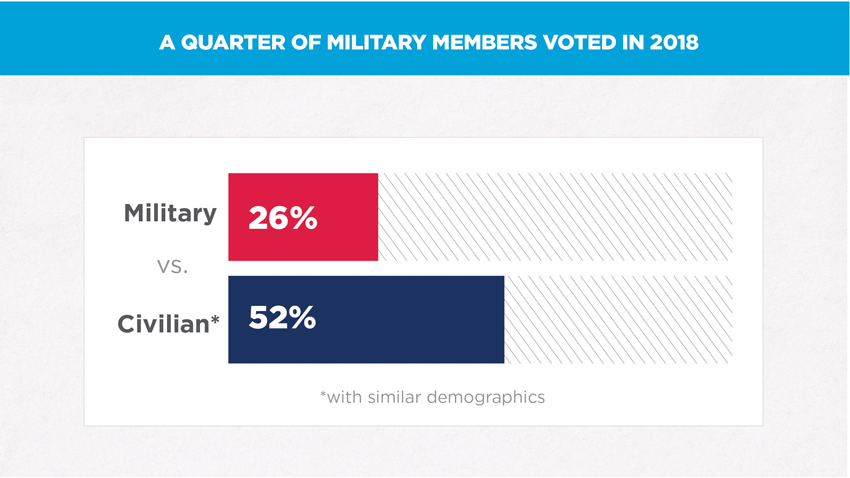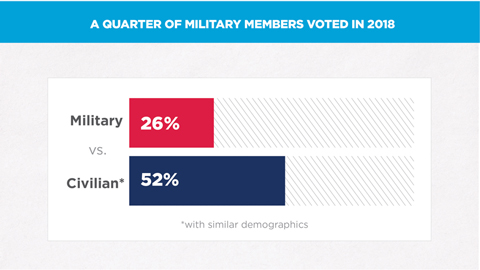 Turnout among the civilian population, on the other hand, was at a record high. Among civilian voters with similar characteristics, turnout hit 52%, resulting in a 26-percentage-point difference between military and civilian voters in 2018.
Civilian turnout likely reflects the high intensity and levels of voter interest seen domestically in the run-up to Election Day 2018.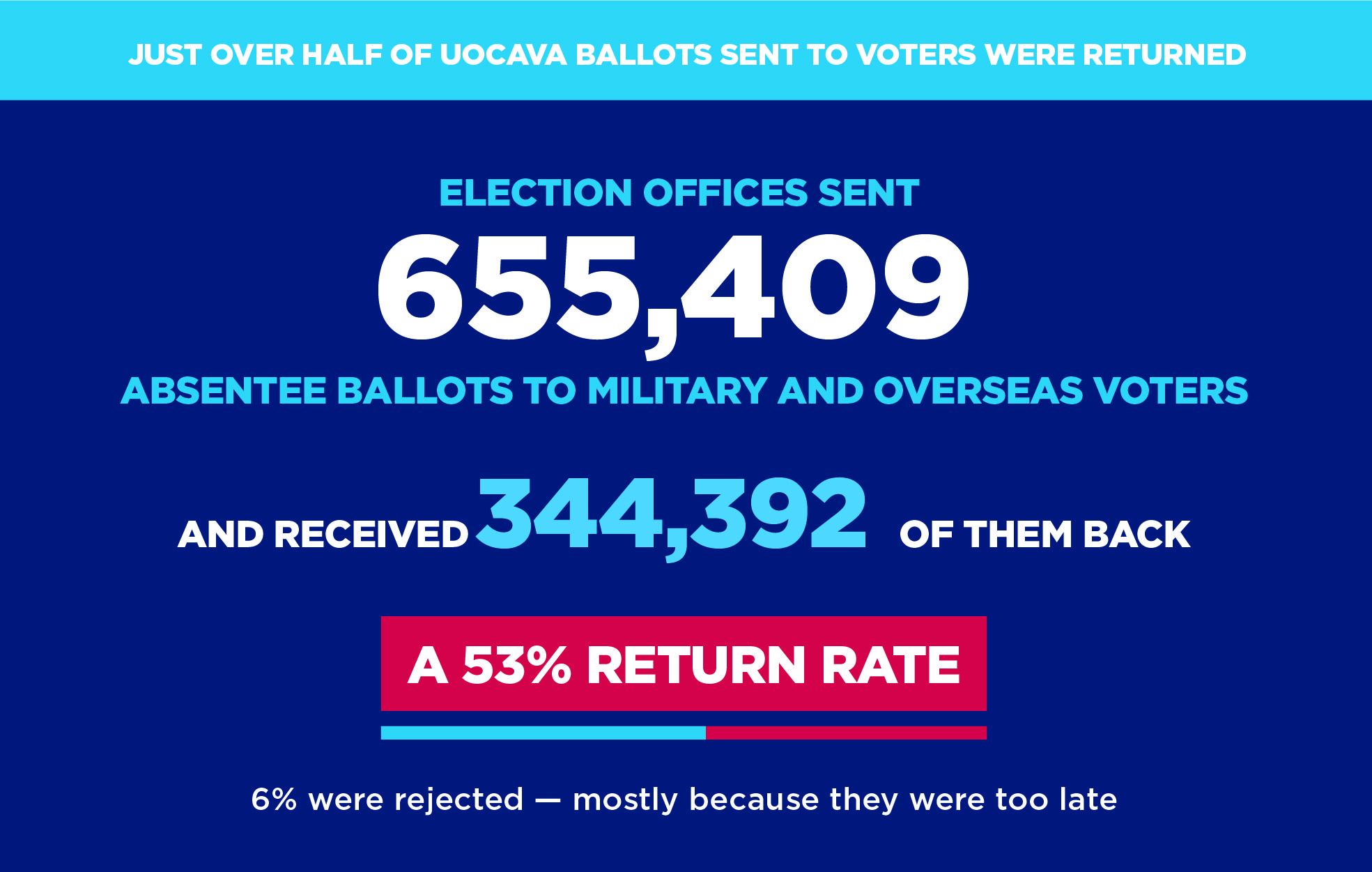 The number of ballots that election offices send to military and overseas voters and the number of ballots that voters subsequently send back reveal the overall size and impact of this special group of voters.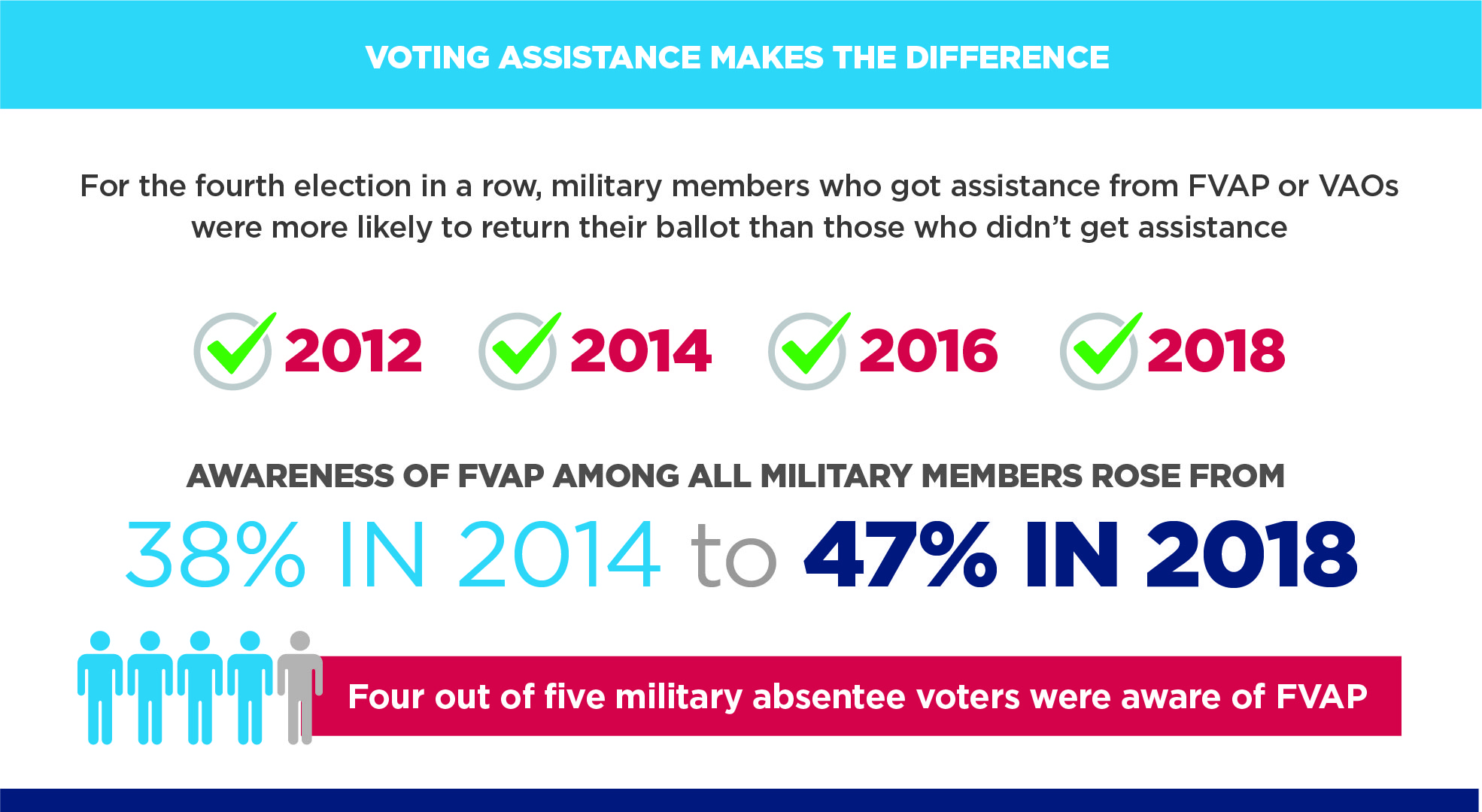 Military members who received assistance from FVAP or Voting Assistance Officers (VAOs) were significantly more likely to submit a ballot than if they did not receive that assistance — a consistent finding across the last four General Elections.
Military members were also more likely to be aware of FVAP in 2018, especially absentee voters.
FVAP.gov's web metrics indicate that its popularity increased significantly compared to the 2014 midterm election — with a 136-percent increase in site sessions in 2018.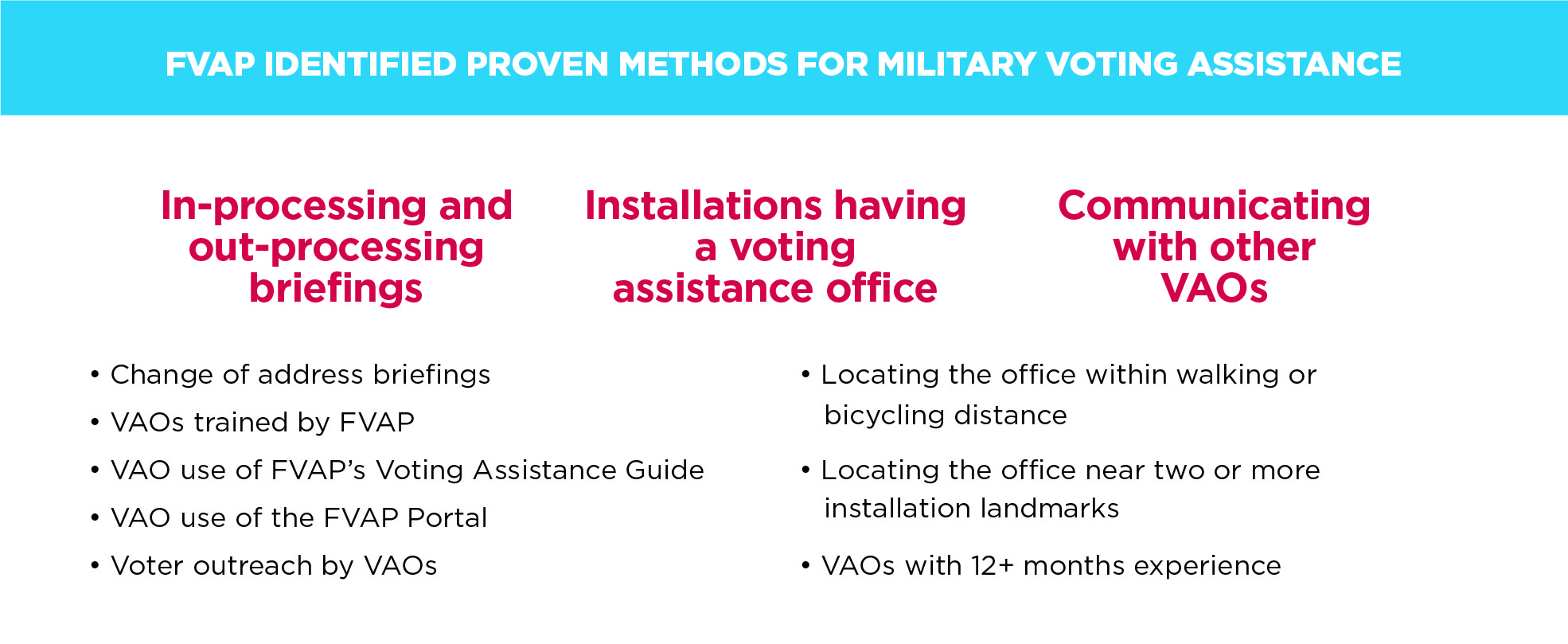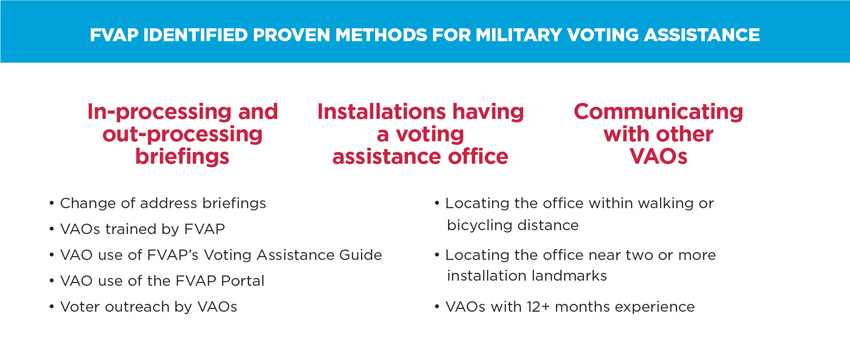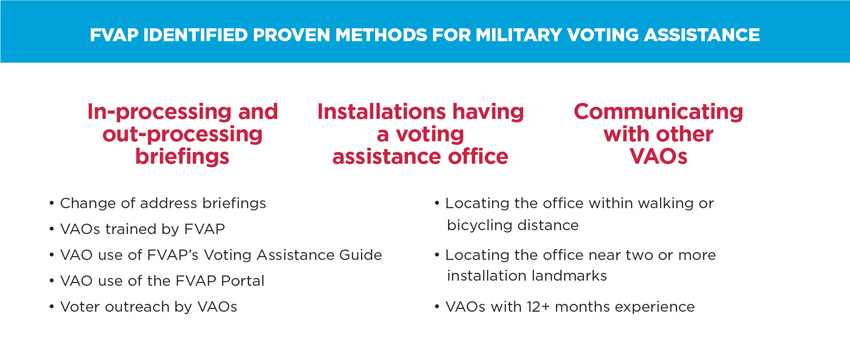 In 2018, FVAP developed the Effective Voting Assistance Model as an index to share proven methods and identify the ideal characteristics of military voting assistance programs administered by Voting Assistance Officers (VAOs).
The higher a VAO's score on the index, the higher the number of active duty military expected to receive voting assistance and be aware of the Federal Post Card Application, which allows them to register and request a ballot with special protections.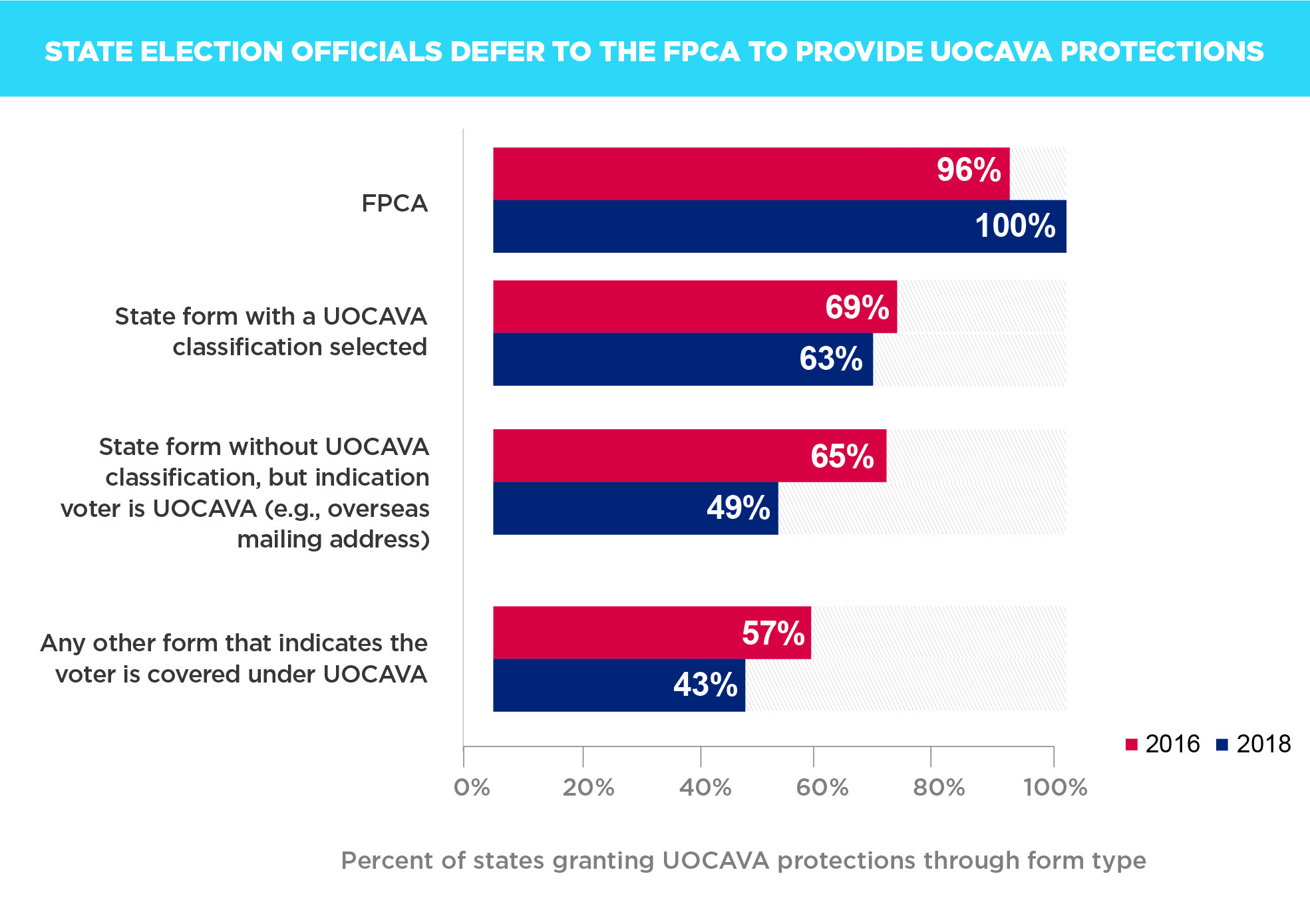 Some states do not ensure UOCAVA protections for voters who do not use the Federal Post Card Application (FPCA), which underscores the importance of FVAP activities to distribute and promote the FPCA as the one universal national form.
In 2018, state election officials who used FVAP products and services were happy with them — with satisfaction ranging from 80% to 100%. Over 80 percent indicated that they referred local election officials to FVAP.gov, which was slightly less than the 90 percent who reported doing so in 2016.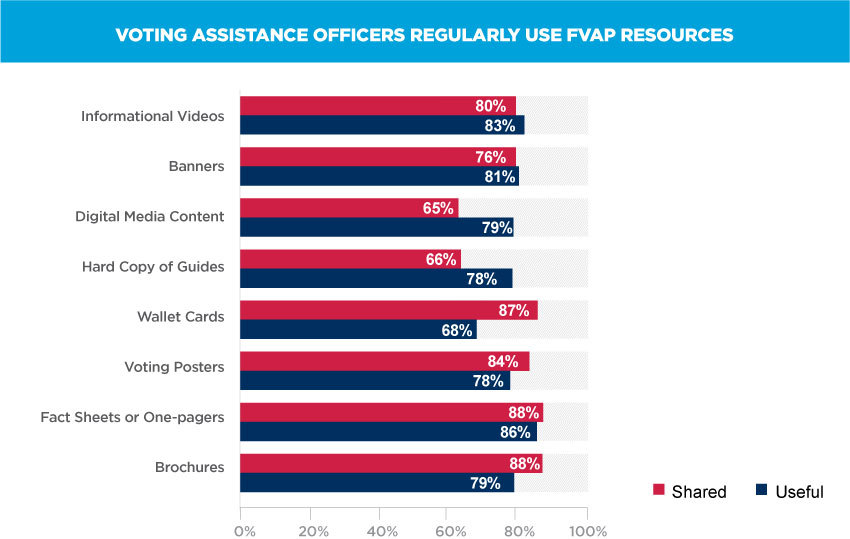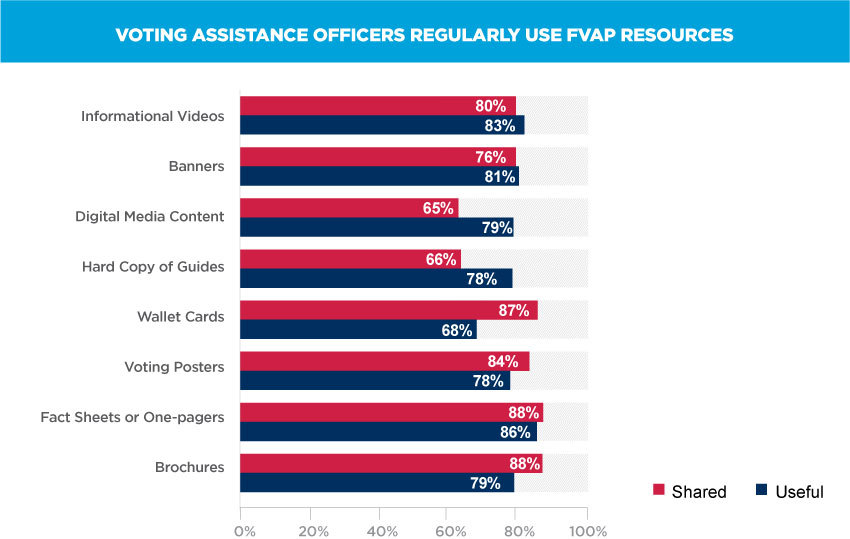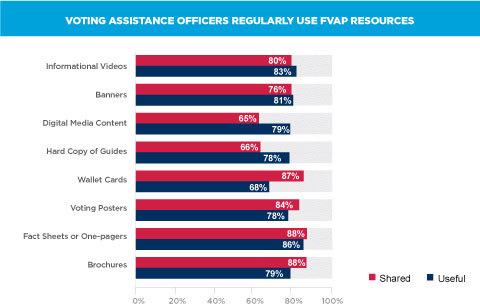 FVAP partnered with the Air Force, Army, Marine Corps, Navy and the Department of State in order to conduct in-person trainings for Voting Assistance Officers (VAOs) at 119 locations within the U.S. and overseas. FVAP trained 2,857 VAOs in 2018.
Of all military members, 44% were aware of VAOs at the unit level, and 43% were aware of Voting Assistance Offices on their installations. However, only 23% of first-time absentee voters were aware of both, which emphasizes the need for FVAP to better reach first-time absentee voters.
Awareness of FVAP materials by VAOs at the unit level was 56 percent in 2018 — an increase of seven percentage points from 2014 — and 58 percent at the installation level.
Overall, most VAOs who obtained FVAP's marketing materials had a positive view of the items and shared them with others.
See the full report for the 2018 Post-Election Report to Congress to learn about FVAP's activities supporting all UOCAVA voters, in addition to findings from Post-Election Voting Surveys of State Election Officials and Voting Assistance Officers.

See all previous volumes of the Post-Election Report to Congress:
2016 1962-2014

Zeroing in on the military voter's experience, FVAP has established a research repository of military voting data based on post-election surveys and studies of voter file data after every federal election for the purposes of presenting trending data that define the State of the Military Voter and demonstrate how the military vote has changed over time. It is released after every federal election year as a public report based on the Post-Election Report to Congress.

Separately, FVAP releases research on the voting experiences of U.S. citizens residing abroad as part of the State of the Overseas Voter.
About the Methodology

Much of the data included in FVAP's Report to Congress comes from the Post-Election Voting Survey of the Active Duty Military (PEVS-ADM). Starting in 2016, FVAP made changes to improve the survey's data quality and expand respondents to be more representative of active duty military overall by increasingly framing the survey as being about broader military issues and de-emphasizing language regarding the voting process in survey materials. In 2016, 85 percent of the sample received materials that maintained the past emphasis on voting language (referred to as Sample A), while the remaining 15 percent received materials that de-emphasized voting language (Sample B). In 2018, these proportions were reversed. In 2020, FVAP plans to use only the broader language that de-emphasizes voting. Due to this transition in methodology, the majority of voting-related statistics are expected to trend downward because more active duty military members who do not vote or lack the interest and motivation to do so are expected to respond to the survey. In this reporting, discussions focused on 2018 data exclusively report percentages from Sample B. However, to maximize data comparability, comparisons between 2014 and 2018 are reported using Sample A data.