Voting Assistance for Members of the Marine Corps
Need In-Person Help?
For in-person help you should visit your nearest Unit Voting Assistance Officer. Through them you will be able to get hard copies of forms, get assistance in completing the forms, or get answers to any of your absentee voting questions.
You can also find voting information at your Installation Voter Assistance Office. Their contact information can be found on our Marine Corps Installation Voter Assistance Office Contact Information page.
Not Sure if You Registered to Vote in Your Voting State?
You can check to see if you are registered to vote by going to our links page. Once on that page scroll down to "State Voter Registration Verification Website." Here you will choose the State you vote in, then be redirected to that State's registration verification page. You can always contact your local election official or FVAP directly if you have any additional questions or concerns.
Want to Know About the Military Absentee Voter Process?
We have put together self-training slides, that will assist you in understanding the absentee voting process from completing your absentee ballot request to successfully casting your absentee ballot. Self-training slides are available in Adobe Acrobat and Microsoft PowerPoint 2003 formats.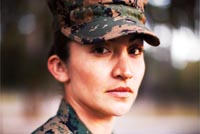 Marine Corps Service Voting Site

Email
Stationed Overseas? Find Out Absentee Ballot Mailing Deadlines

Use the 2014 Recommended Absentee Ballot Mailing Deadline Dates chart to locate the amount of mailing days it takes to send mail from your location overseas back to the States.