Outreach Materials
To assist Service members, their families and overseas citizens, FVAP has created materials to cover many topics related to absentee voting. These tools are available below for you to download, print and share as you see fit. We are always looking for ways to improve the voter experience through information, so check back over the next few months to see what has been added!
Pre-Printed Resources
Some products such as wallet cards, tri-fold brochures and posters are better shared using our pre-printed copies. To request hardcopy products, email Media@FVAP.gov. We have limited resources, so please be respectful in the number of items you request.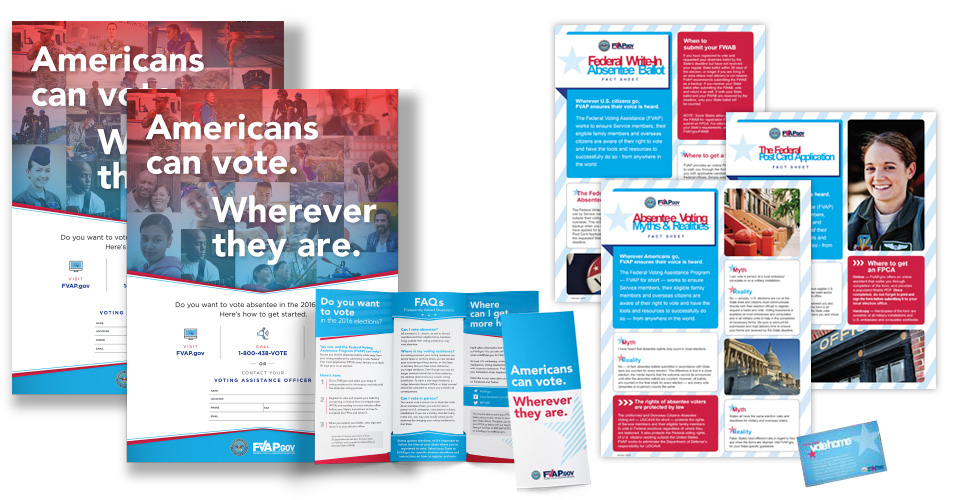 Toolkits
As part of our 2014 outreach plan, we are mailing toolkits to select audiences. These kits include sample press releases, documents for disbursement and a letter on how to use the kit. While most of the kit is available above for download, we are able to provide a hardcopy version at your request. To request a toolkit, email Media@FVAP.gov.
Blogger Widget
This widget can be downloaded and placed on any website to create dynamic access to the State pages. These State pages will get the voters started on filling out the forms they need to register to vote, update their mail address with the local election office and request their absentee ballots. Anyone is welcome to use the widget in their site! Click here to download.
Can't find what you need? Let us know what we can create to help you! Email Media@FVAP.gov with suggestions.