COVID-19 Updates
The Federal Voting Assistance Program (FVAP) is tracking the ongoing impact of the coronavirus pandemic 2019 (COVID-19) on Service members, their eligible family members, and U.S. citizens abroad, when voting absentee in federal elections.
In its role under the Uniformed and Overseas Citizens Absentee Voting Act (UOCAVA), FVAP continues to work closely with partners at state and local election offices, the United States Postal Service (USPS), the U.S. Department of State (DoS), and within the Department of Defense (DoD) to provide assistance for voters experiencing international mail disruptions, shifting election dates, and other potential effects related to the COVID-19 pandemic.
Resources for Voters
FVAP is in communication with state election offices, the Military Postal Service Agency (MPSA) and other federal agencies to bring you up-to-date information on state election date changes and mailing delays. Due to the changing nature of the COVID-19 pandemic occurring around the globe, we recommend that you contact your Military Post Office or local post offices regarding possible delivery delays before mailing your voted ballot. Check the ballot return options in your state, choose your state in the map.
This page and the resources below will provide updates and any current information.
Here are some important things to remember:
Submitting your Federal Post Card Application (FPCA) early is the best way to help ensure the process goes as smoothly as possible.
Using the FPCA provides our Service members, their families and overseas citizens with an option to receive balloting materials electronically.
Using the FPCA early grants voters the ability to use the Federal Write-In Absentee Ballot (FWAB) as a backup ballot, if needed.
Here are some important resources for voters –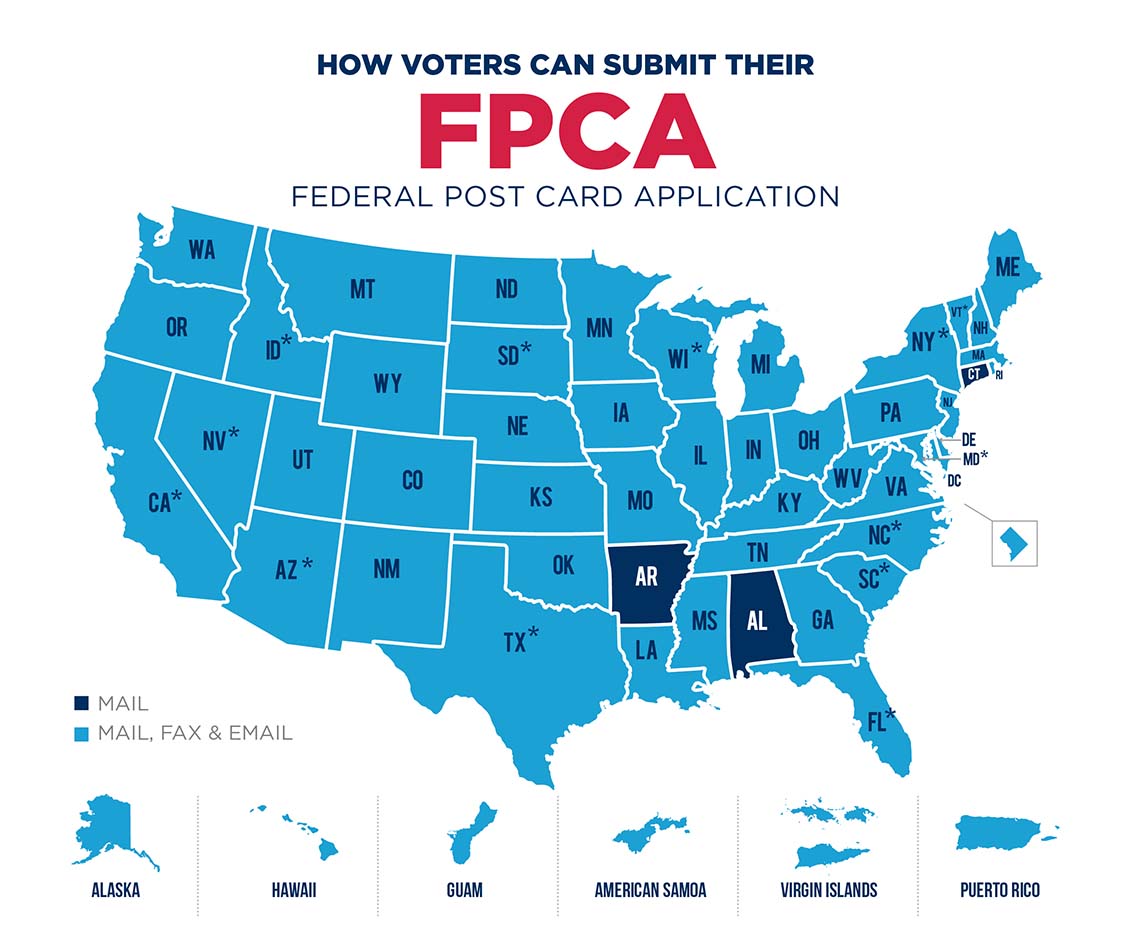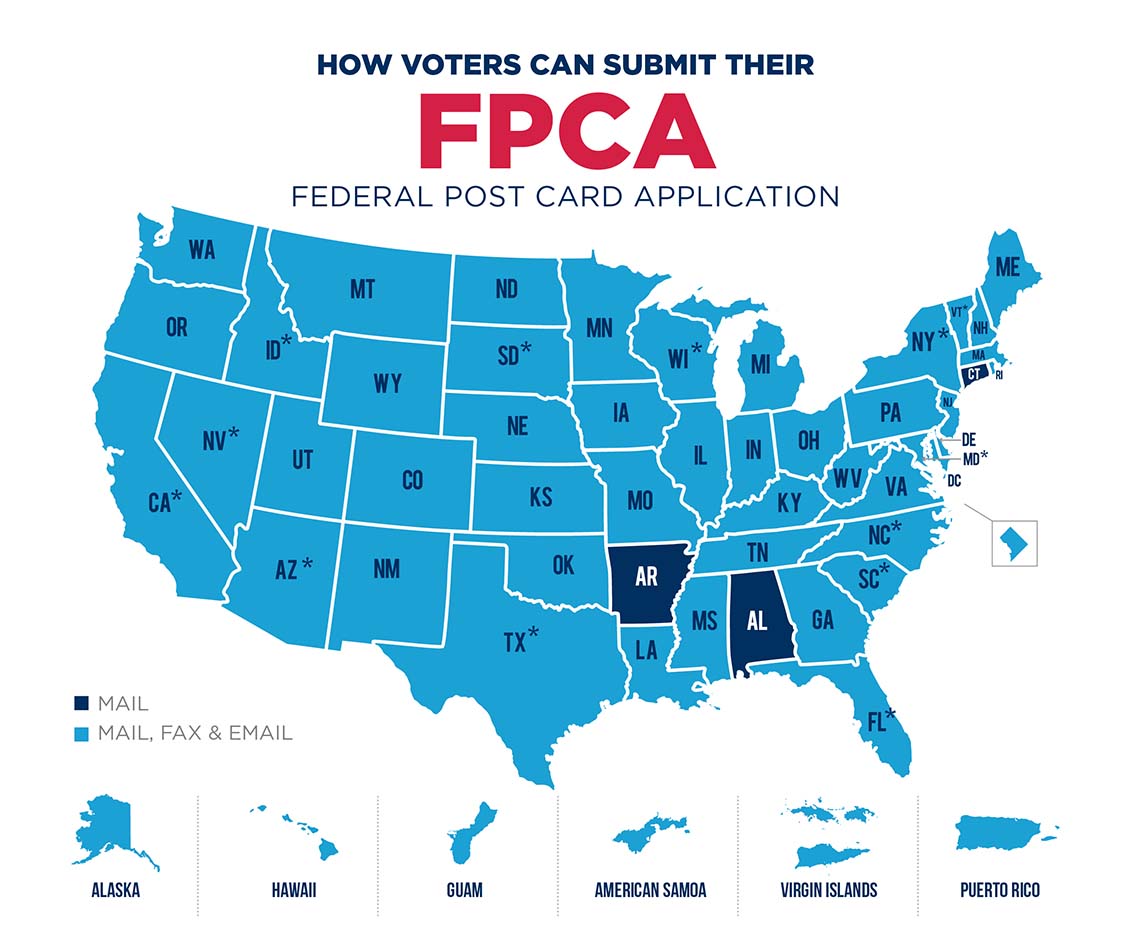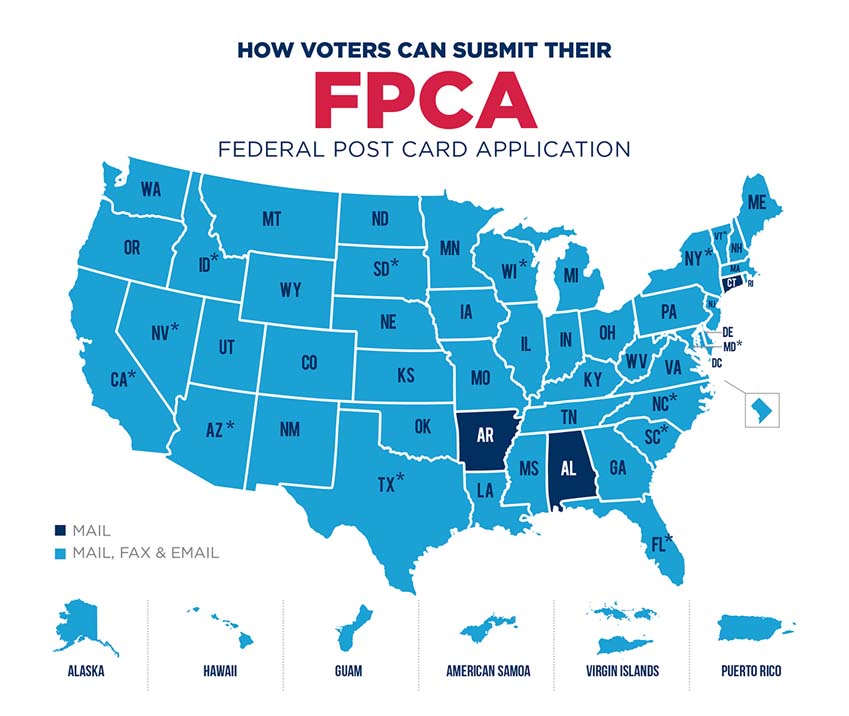 * California – To register to vote, voter must mail or fax the FPCA. If already registered, voter can request a ballot by email, mail, or fax.
* Idaho, Florida, Maryland, South Dakota, and Wisconsin – To register to vote, voter must mail the FPCA. If already registered to vote, voter can request a ballot by email, mail, or fax.
* New York – If voter emails or faxes the FPCA, voter must also mail the FPCA.
* Texas – Timely faxed FPCA must be followed by a hardcopy mailed FPCA that must be received by the early voting clerk by the fourth business day after the fax.
Download the FPCA Submission Method Map here: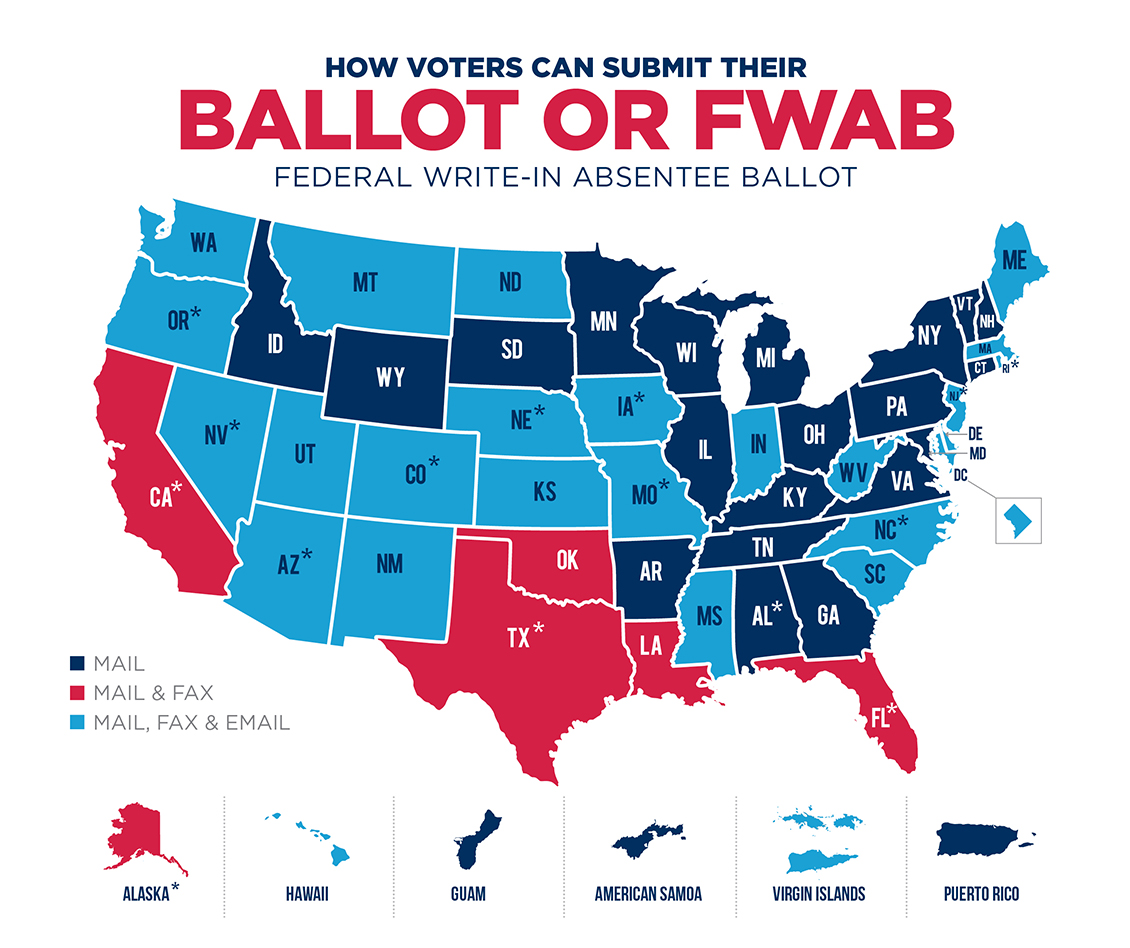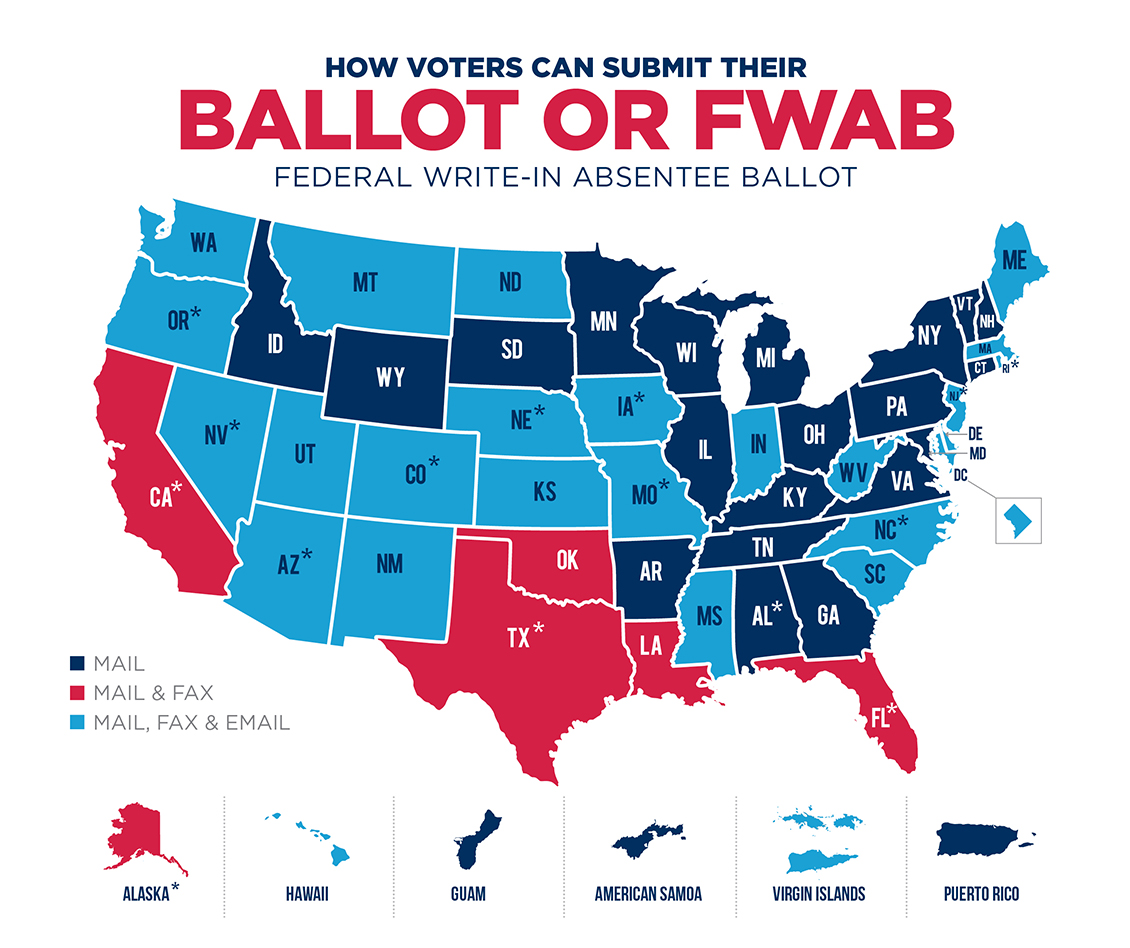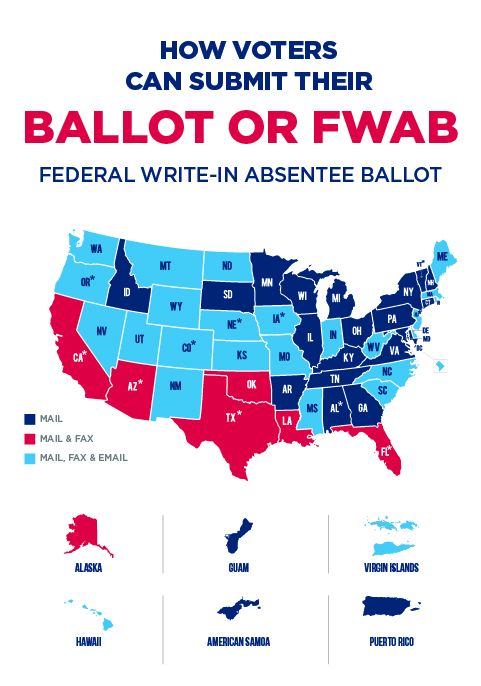 * Alabama – Online also available. Online only if voter requested absentee ballot by email/online and voter is located outside the territorial limits of the U.S.
* Arizona – Online also available. Online submission available if a voter receives instruction from their local election official.
* California - Fax only if voter is overseas or activated within 6 days of the election.
* Colorado - Online also available.
* Florida - Fax only if the voter is outside the U.S.
* Iowa – Email and fax only for overseas Uniformed Service members and all other UOCAVA voters who are located in a hostile fire area.
* Nebraska – Email and fax available for those voters who have the prior approval from their local election official.
* New Jersey – Voters can email or fax their ballot/FWAB, but they must also still mail their ballot/FWAB.
* Oregon – Additional forms are required if voter is voting on local offices or ballot measures and voter is submitting the ballot by email or fax. Forms can be found at www.oregonvotes.gov/myballot.
* Texas - Fax only if the voter is located in a hostile fire area.
* Vermont - Email only if the voter is located in current USPS International Mail Service Suspension area.
Download the Ballot/FWAB Submission Method Map here:

FAQs for Voters Residing Overseas
Question 1. What do I do if my country is listed as not processing international mail and my state only permits mail-in ballots?
If you received your blank ballot electronically or completed a Federal Write-In Absentee Ballot, but find your country's postal operations are disrupted, we encourage you to consider the following steps:
Determine the operating status of the nearest embassy or consulate as they will accept your completed ballot package for return to the U.S. via diplomatic pouch. The completed ballot package must include U.S. postage on the outer envelope unless it has a postage paid indicia such as the one on the envelope template located here.
If you are not in proximity to an embassy or consulate, but a Military Post Office on a DoD installation is nearby, you may be able to coordinate with them to drop off your completed voted ballot package for return through the Military Postal System. Again, using the envelope template will afford you the opportunity to return this postage free.
You may also check the status of commercial carriers, if election officials in your state will accept completed ballots sent by private carrier. If this option is available, please keep in mind that the additional shipping fees are your responsibility.
Question 2. What do I do if I'm unable to contact my election official to request an electronic blank ballot?
A. If you have already requested a ballot, but it is hasn't arrived, please complete a Federal Write-In Absentee Ballot and follow the return instructions. Keep in mind a few states may allow you to use the Federal Write-In Absentee Ballot even if you haven't already applied for a ballot. If your official residence is in a state that only permits postal return, please consider the options outlined in Question 1 above.
Resources for Election Officials
FVAP is collaborating with election officials to track changing election dates, deadlines, and impacts on a voter's ability to return election materials. Communication with the voter is more important now than ever. Due to international airport interruptions, many military and overseas voters will face greater-than-normal challenges with returning mail back to the United States in a timely fashion. FVAP will continue to track these impacts, but we strongly urge election officials to communicate with the voters regarding options that may arise to help overcome these challenges. Further, if election dates and deadlines do shift to accommodate COVID-19, please let FVAP know as soon as possible so that we can update our globally accessible information at FVAP.gov as needed.
Here are some important resources for election officials –
FAQs for Election Officials
Question 1. What is the difference between APO/FPO mail vs. DPO and diplomatic pouch?
APO/FPO addresses (Army Post Office and Fleet Post Office) are used for mail identified for active duty military and family members serving overseas. This mail is transported through separate channels from international postal operators and continues to move regardless of disruptions to such operators; however, short term delays may occur due to local operational security.
DPO addresses are for mail identified for government personnel and families assigned to an embassy or consulate. FVAP is working with the Department of State to encourage voters assigned to locations with reported disruptions to request balloting materials electronically or update their mailing address to the diplomatic pouch address (usually a Washington DC address.)
Diplomatic Pouch refers to official materials and correspondence moving from embassies and consulates back to the United States through Dulles International Airport. The movement of these materials also continues regardless of disruptions to international postal operators.
Question 2. What do I do with ballots if I've been unable to contact UOCAVA voters to obtain an email address and encourage them to request an electronic delivery of their blank ballot?
We recommend election officials encourage the use of electronic blank ballot delivery, but definitely continue to prepare and send the blank ballots as you normally would especially as you approach the 45 day mailing requirement. This will demonstrate your compliance to federal law since the USPS will return any balloting materials back to your office if the destination country is not currently accepting mail for local delivery.
FVAP Customer Service for Voters and Election Officials
The FVAP customer service center remains available to voters and election officials. Hours will continue to be Monday – Friday, 7:30AM – 4:00PM EDT and can be reached by phone at 1-800-438-8683 or by email, vote@fvap.gov.